Image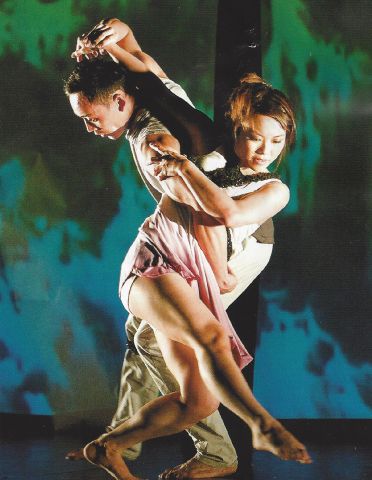 Production
Playing Landscape
Performers
Cindy Ng (ink artist)
The trickling of rain triggers the emergence of growth from beneath the black earth. Four dancers begin a journey that, an hour later, has them travel from basic nature to an urban existence. There's intimacy that just stops short of erotic - but endearing all the same.
Significantly from a production based on the legends of southern China there are draped seven hangings of calligraphy paper, perhaps the width of wallpaper, appropriately in pure white. On these we saw Cindy Ng's inspirational ink artistry take us through the changing seasons and times. It was all about ink falling onto water in so many clever permutations.
The accompanying music was specially written and at times was synthesised piano and at others from a string quartet.
Macao has a population of about half a million people, making it the most densely populated region in the world. Like its neighbour, Hong Kong, it is a Special Administrative Region of the People's Republic of China, and until not so long ago under Portuguese rule. Talking to some of them afterwards, and to some of their Cultural Affairs Bureau on a visit to Edinburgh, they were excited to be in Edinburgh. I was excited to share in a part of Made in Macao.
Until 25 August (not 11th or 18th). £9.50 (£7.50) to £11.50 (£9.50)