Image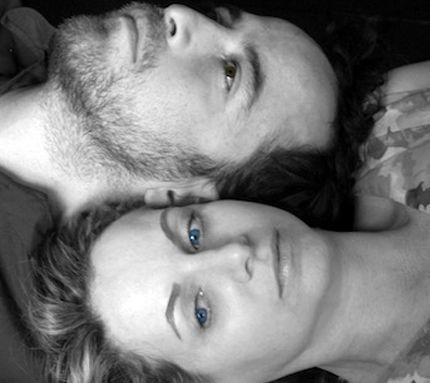 Company
Anglo Arts, The Play Company and Por Piedad Teatro in collaboration with Developing Artists(MEXART)
Production
Gigliola Fantoni (adaptor), Ana Graham and Antonio Vega (directors),Gabriel Pascal(set and lights), Rodriga Espinosa(sound), Ana Graham (costumes), Danya Taymor Ana Graham and Antonio Vega(translators), Laura Almela and Daniel Gimenez Cacho(original staging concept)



Performers
Ana Graham and Antonio Vega
A warm and welcoming direct chat greets the assembling audience as the two actors unabashedly get dressed on stage in preparation to play the characters of Working on a Special Day.
The three sided blackboard set envelops the stage that contains the simple props for an Italian domestic scene. Screamin' Jay Hawkins singing his sultry and ever so slightly diabolical "I Put A Spell On You" hints at what lies ahead in this unusual love story.
The date is 8th May 1938. A Roman housewife is dealing with the morning chaos of family life as she shoos and urges her husband and six children out of the apartment. It is a national holiday because Hitler is in Rome to visit Mussolini. The family is attending the parade whose pompous sounds are heard in the background while the woman sorts their socks in the quiet of the empty house. Their pet parrot's escaping from its cage is the catalyst to an unexpected and affecting encounter with her single male neighbour.
The costumes are beautifully authentic as is the perfectly appropriate and beautiful old kitchen equipment in the set, all carrying a subtle red motif. As the play proceeds the remaining props are created by Ana Graham and Antonio Vega, who chalk the blackboard walls with comic imagination.
They include rhumba dance footsteps, whose accompanying rhythms are drowned out by the militaristic music you can't dance to, and the open and closed windows that are so significant in this intimate human drama set against the larger canvas of Fascist politics. The two have used smart direction to create credible spaces and voices off with flair.
This portrayal of the meeting of a conventional woman with a man who conforms to being neither 'husband, father, nor soldier', but someone who can cook and dance, is touching and entirely human. Somehow the skill of hanging washing is peculiarly gendered yet here is a male feminist who can fold a sheet with a partner without instruction.
Within the play's steady pace there is one dramatic change of tone that is as shocking as finding a splinter in a plate of spaghetti and testament to the heart felt passion Graham and Vega bring to the piece.
This charming production is based on the 1977 film Una Giornata Particolare by Ettore Scola and Ruggero Maccari and is from a Mexican company that has enjoyed a run in New York before its Fringe appearance. The characters find an oasis in each other and this is an oasis in the madness of the Fringe.
Show times
1 to 26 August, 11:10am
Ticket Prices
£12 (£11)