Image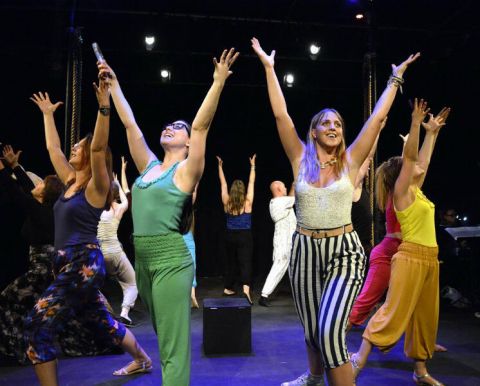 Company
Changing the Scene Productions
Production
Rachel Partington, Amy Le Rossignol (artististic directors), Jessica Warren-Basham (Choreography)
Performers
Stephen Redwood (Moses)
This powerful new musical is a heady mixture of very serious stuff lightened by a very remarkable circus!
Slaves of the Kingdom tells the story of Moses leading up to the Exodus using contemporary settings including enforced working and human trafficking. The story follows the Bible with Moses saved from a cull of male children by being hidden in the bulrushes in the river and then being brought up by the criminals who are controlling his indigenous people.
The ruthlessness shown demonstrates the plight of all those who are controlled by others. Just when you think that this production is very worthy, with interesting music, there is a sudden change of mood and pace with the introduction of the remarkable circus with characters beautifully crafted by the young cast.
'Whipper' the 'Misfortune teller', and truly magnificent circus boss, complete with feral family, and others all make a big impression.
There are a number of really good numbers in the show including one about 'Magic' and one with the workers. The movement of the cast and the choreography leave a lasting impression of colour and energy.
The music is a real mixture, provided by a live band with a really good balance of instruments.
At times I struggled with the changes of scenes and styles but it was worth going with the flow due to the standard of performance.
This a new work and credit to cast and the creative team. There was a host of good performances with Josh Howell to the fore engineering the workforce and Stephen Redwood as Moses.
However, this show is dominated by women and the cast does not have a weak link. 'Slaves of the Kingdom' is an early start, but one worth catching!
Runs until 17 August, 12noon