Image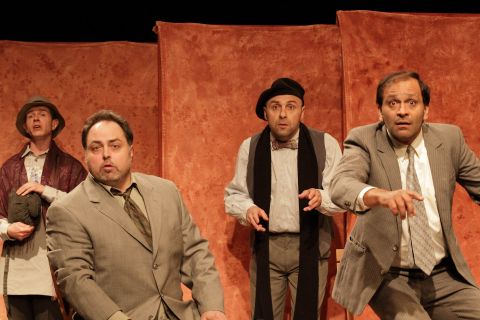 Production
Eugène Ionesco (writer), Sion Dey (music), Joanne Allan (director and adapter), Jenni Kallo (assistant director), Claire Graham (dramaturg)
Performers
Cédric Merillon (Dudard, housewife, waiter, Old Man), Siva Nagapattinam Kasi (Jean/Mrs Bœuf), Guillaume Paulette (Béranger), Sylvain Paolini (Botard/ Old Gent/ Café Proprietor), Mélanie Tanneau (Daisy/Logician/Grocer's Wife/Old Man's Wife), Alexander Maclachlan (voice of Mr Papillon)
Eugene Ionesco, a Romanian dramatist who made Paris his home, was one of the theatrical revolutionaries who "helped inaugurate the Theatre of the Absurd" after writing  a one act 'antiplay', La Cantatrice Chauve (The Bald Soprano) in 1949.
This version of Ionesco's 1959 absurdist classic is brought to the Fringe by Paris-based international theatre company Theatraverse who perform the UK première of its bilingual adaptation at Venue 13 on the Canongate. 
The company has a philosophy that has informed their choice of play.  They pay particular attention to words and communication and their choice to have the text as a mix of French and English allows an exploration of linguistic possibilities.
The majority of the company's members trained at the International Theatre School, Jacques Lecoq in Paris, and have origins that range from France, Scotland, Algeria, Northern Ireland, Finland, India and New Zealand, the diversity and plurality of whose skills and culture inform its identity.
Rhinoceros tells the tale of a town that finds its inhabitants, all except one, turning in to rhinoceroses. Is Bérenger the only sane person in a sea of grey madness or is he the captain of the awkward squad, swimming against the tide of the inevitable? Is he the last man standing?   Should he conform or die?
This brilliantly enacted concept is an exposé of human behaviour, conformity and communication viewed through the prism of absurdity: absolute logic applied to a completely ludicrous situation.  The bilingual text through which we are posed the questions of what is normal and what is illusion, whether it is better to belong or be out of step, works extraordinarily well.  
With no more than five faded reddish screens and a table and chairs inside a circle of wood shavings, the Theatraverse actors bring to life this fantastic piece self-referential theatre whose characters discuss syllogism, ask each other what they think of avant garde theatre and whether they've seen an Ionesco play, with comic and professional aplomb. 
They slip in and out of screens and in and out of characters, metamorphosing from suave to savage under the clever direction of Joanne Allan, their smart grey suits turning to clay as they submit to the seemingly transforming liberation of being a rhinoceros.
The sound effects are impressive with a vaguely sinister trumpet as the rhinos, be it African or Asian. That debate in the play was never concluded!
The cast's Lecoq training is evident, particularly in the bouffonesque window jumping scene.  The voice reading the off stage Mr Papillon was a little stilted, but it maybe only seemed so compared to the standard of acting on stage.
As the absurdly convincing rhinos stalk the stage, the conclusion has to be that la vie est vraiment un rève!
Rhinoceros was first performed by Theatraverse at Théâtre du Voyageur, Asnières-sur-Seine in June 2012.
Hang on to your Venue 13 ticket and the Box Office there will let you buy a ticket for another Venue 13 for just £2. (True at time of writing!)
Show Times: 11th to 18th August 2012 (except 13th), 8:30pm

Ticket Prices: £8/£5