Image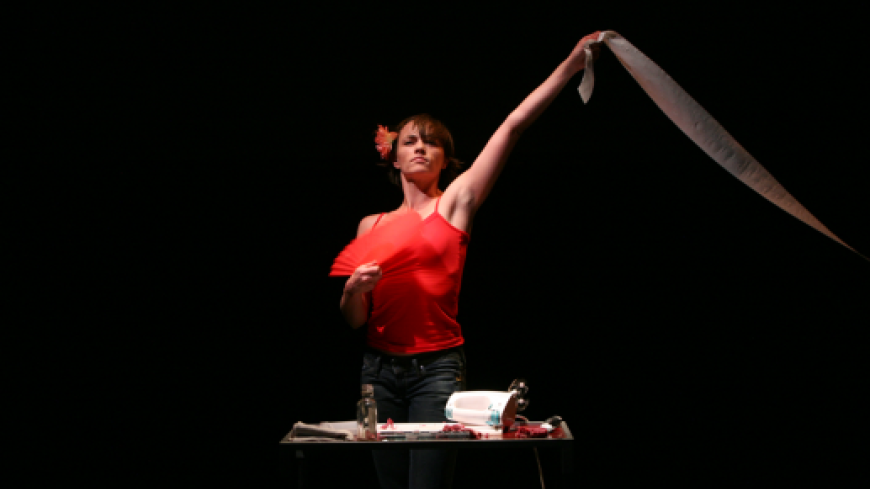 Company
Association Arnica 9CH
Production
Maud Liardon (Concept & Performance), Pierre-Alexandre Lampert (Sound & Video Editing), Davide Cornil (Light Creation), Christian Lutz (Camerman), Imanol Atorassagasti, Florence Chappuis, Odile Ferrard (Outside eye), Janine Liardon (Administration)
Maud Liardon is back on the Fringe after a break of 4 years. She's still clever, she's still mega talented and she's got a wicked sense of humour. All this has been brought out in this latest production which is a creation of her own. An examination of the dancer's life described as a 'choreographic self fiction'.
The piece explores the fantasy of dancers' lives juxtaposed against the harsh and biting realities of this challenging career. The opening scene is extremely funny, Maud appears on stage and begins to dance an ernest solo piece. Then a voice over begins to cut in revealing the dancer's thoughts as she goes through the piece. The projected pretensions and assumptions of the audience are systematically taken apart and I have to say this is the first dance piece I have seen in a long time where the entire audience was laughing out loud, bravo! The dance sequences are intercut with video once again illustrating the 'truths' of a dancer's life, the text borrowed from the work of Kubrick and Godard.
The serious issues of the subtle and not so subtle pressures applied to dancers and the stupid decisions that youth often leads us to make are exposed with an objective and knowing eye. And the pivot from the funny and stupid side of a professional dancer's life to the cruel and destructive aspects is beautifully handled and balanced.
This is a piece I would go and see again as it is multi-layered and maintains a rhythm and interest from beginning to end. Superb!
Show times: 6 to the 21 August, (Not the 8 or 15) Times vary - 40 minutes
Ticket prices: £7