Image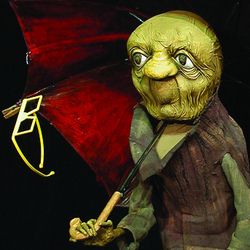 Company
Theater Atelie 313
Performers
Rumen Gavanozov
There are few certainties in this world, but I think that it is a safe bet to suggest that you can always rely on a puppet show to set an audience alight.
From shadow puppetry to Punch and Judy, this ancient art form has an almost magical ability to excite the imagination of both the young and old in any place or time.
However, though there were glimpses of humour and genuine beauty in tonight's performance, I couldn't help but feel a little bored whilst watching A Day In November.
The hour long show focuses on a nameless, one hundred year old puppet whose time has come to say goodbye to all that he has known and hang up his little wooden boots.
Initially, the idea sounds rather sweet and it was this description that attracted me to the show in the first place. However, it takes 15 to 20 minutes (maybe more) for the puppeteer to wake up his little friend. This is all done with some comic effect, but was way overdone and his awakening just wasn't worth the wait.
He's always looking for his cucumber (that's not an innuendo), he talks to his trombone (I wish that was an innuendo) and he thinks his feet are hilarious!
Yes, we see that he is senile and it's a little amusing for a little while and even a trifle sad. But, though the show only lasted for an hour, it just seemed far too stretched.
The puppeteer himself, who is visible and putting in a performance of his own, is fine and is even vaguely amusing at points. But it is just not enough. There is a lack of something crucial.
A lack of childlike wonder.
A lack of magic.
Show times: 5th - 29th 17:00

Tickets: £8:50