Image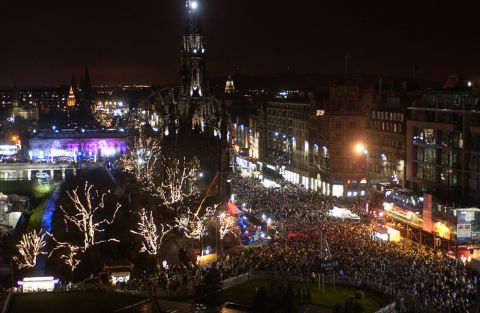 Performers
Concert In The Gardens: Madness, The Noisettes, Codeine Velvet Club; The Waverley Stage: The Enemy, Frightened Rabbit, Stanley Odd, We Were Promised Jet Packs, Vic Galloway (compere). The Mound Precinct Space: The Cuban Brothers, Glitter Banditz, The Great Calverto (guest DJ); The West End DJ Stage: DJ sets by MYLO, Gary & Tom (Snow Patrol), Richard Colburn (Belle & Sebastian)
Madness. Madness, they call it, madness.They're right. Princes Street at New Year is beyond madness, it is insanity. Somehow, the street party organisers have managed to sell the traditional Scottish Hogmanay celebration to the world and re-packaged it as the ideal time to struggle through sub-zero temperatures and dense throngs of merry and, invariably, totally hammered revellers across the space of one mile of city centre.
The traditional Scottish Hogmanay should involve chappin' on fowk's doors, first footin', a wee dram and some black bun. It shouldn't involve a giant, commercially-driven rock festival taking over the nation's capital as the hours tick down to midnight.
At least, I don't think it should.  But what do I know?  Although attendance seems to be down this year, a possible result of recessionary times and recent years being cancelled due to bad weather, thousands of punters are still having a good time.  Spirits are high all across the various Princes St stages, perhaps inevitably so when it's -5C but there's booze to be had.
At the foot of Cockburn Street lies the Waverley Stage.  Hosted by Radio Scotland's very own Vic Galloway, Edinburgh's We Were Promised Jetpacks and headliners The Enemy provide instant kicks for a packed, heaving audience while one other hotly tipped Scottish band on the bill get the most incongruous onstage greeting imaginable from Vic, when he bellows "Please!  Welcome!!  Frightened!!! RABBITTTT!!!!".  I quite like Frightened Rabbit's indie shuffle, but I really don't think they need the "Black Sabbath at Donington" style histrionic introduction.
Further along, past tipsy crowds doing their best not to break their ankles on Princes Street's freshly laid tram tracks, there is The Keilidh stage at the foot of the Mound.  Here there is much, carefully annotated and instructed, hooching and skirling to a soundtrack from folk bands such as Watergaw and the beautifully named Hugh MacDiarmid's Haircut.
However, it must be pointed out, both The Keilidh and the main Concert In The Gardens stages are separately ticketed events, and pricy at it.  For the average pass holder paying £10 as entrance to the street, all they get is the Waverley Stage, a couple of DJ stages at either end of what is a very long street and a good view of the fireworks which, not so long ago, you could get for free from the same spot.  And the bars along Princes Street selling tiny bottles of lager for £4 really are taking the proverbial.
Into the Concert In The Gardens themselves and there are other rankles, notably the fact that the whole upper walkway of West Princes Street Gardens has been cordoned off, seemingly to stop anyone who only have access to the gardens, not into the stage enclosure itself, getting a decent view.  Musically, however, support band Noisettes can't be faulted.  They get the freezing audience well into full on party mode using a stylish melange of fifties rock 'n' roll licks with modern disco-ball shimmer.
Chant-along hit single "Don't Upset The Rhythm" gets the audience participation going, fairly necessary in these temperatures, and front-woman Shingai Shoniwa is without question a born superstar.  Dressed in a selection of tiny, glittering dresses, contorting across the stage while squealing at how freezing she is in her stocking feet and with a voice surely destined to accompany a future classic Bond theme, Shoniwa, frankly, rocks.  It's a shame Noisettes have to clear off at 11pm to make way for the headliners.  They would have been the perfect solid gold party band to see in 2010.  But, sadly, it's not to be.  A quick cover of T-Rex's "Children of the Revolution" and off they go.
So, we stand beneath Edinburgh Castle rock, all lit up under the sparkling winter sky, where countless people before us have stood in the last minutes of a year.  And on come the least Scottish UK band imaginable.  The nutty boys from Camden Town are here.  I can't say I've ever been aware of any great following for Madness round here, although the fair smattering of two-tone style pork pie hats and shades signify there is definitely an audience here for them tonight.  Suggs, Chas Smash and co ooze "sitting round the old joanna" cock-er-nee bonhomie.  They exude fun-loving warmth and get it back off the audience by the barrel-load.
Wisely sticking with a greatest hits-heavy set, they blast off with "One Step Beyond" and stay with the old eighties classics from then on.  "My Girl", "It Must Be Love", "Our House", "Embarrassment" (perhaps aimed at the kilted gentleman openly peeing in the middle of the street at this point), and, directly after the bells have rung and Auld Lang Syne has been sung, "House Of Fun".  Really, they can't be faulted.  The crowd has come here for a good time and Madness deliver in spades.
Seeing Princes Street and Edinburgh Castle as the midnight fireworks go off is truly spectacular.  It is the moment when it becomes immediately obvious why so many people come here for New Year and why Edinburgh has successfully sold its Hogmanay brand around the globe.
But the cheer of the attendant crowd is juxtaposed with certain problems with the event organisation.  The total lack of directions to navigate oneself around a huge location; the vast cost of food, drink and merchandise once one is inside; worst of all, the use of barriers to block off what are public spaces and which restrict access to miniscule entrance and exit points along Princes Street.  At one point, I witnessed a middle-aged couple desperately push aside a barrier to get out of what was potentially a dangerous crush situation only to be forced to go back by a security person.  That is, quite simply, unacceptable.
These issues aside, Edinburgh's Hogmanay this year provided great music, entertainment and spectacle and should be regarded as a success.  Now, anyone want to sign my petition to get AC/DC to headline next year?