Image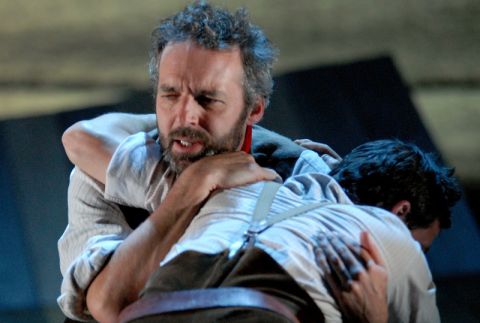 Production
Kenny Ireland (director), Duncan Hendry (producer)
Performers
Jimmy Chisholm, Hannah Donaldson, Janette Fogo, Lesley Hart, Tom McGovern, Alan McHugh, Helen Mackay, Michael Mackenzie, Cameron Mowat, Heather Nimmo, Ronnie Simon
Even on a less-than-promising Edinburgh August morning, a fair field of folk were gathered outside the Assembly Rooms on George Street before the doors opened for Sunset Song. A bare stage awaited early comers, till peopled by the cast as harvesters opened this version of what, for many, remains the great twentieth century Scottish novel.
It is, in many ways, a particularly respectful version. Propelled by fine ensemble playing and illuminated by the individual interpretations of some of our best actors, there is much to cherish here and little to quarrel with. Kenny Ireland's direction is as solid and four-square as befits both the play itself and the way of life which inspired its original. Chris Guthrie's story takes us from dark to light more than once to bring us finally to recognition of the place both hold in all our lives. It's a considerable achievement to bring Grassic Gibbon's novel so fully to brimming life, yet remain as faithful to its structure as this version is.
There are some cavils, however; although the strong tradition of music and song in North East Scotland is alluded to in the score, two songs in this production appear almost literally from nowhere, intruded into a soundscape which otherwise holds integrity, while there is one sound effect which is simply unnecessary.
These aside, this is still a production of considerable virtues, not the least of which is the cast, who (often literally) fling themselves into their roles and rise to the challenges of a very physical theatrical style with clear relish and gusto. Their efforts are supported not only by the aforementioned soundscape but also by effective use of back-projection of landscapes of the Mearns, where Grassic Gibbon's novel is set. The care taken with these simply reflects the attention to detail and feel for the piece echoed in every other aspect of the production.
Times
5-29 August (not 10, 17, 24), 11.40

Ticket prices
£20 (£18)