Image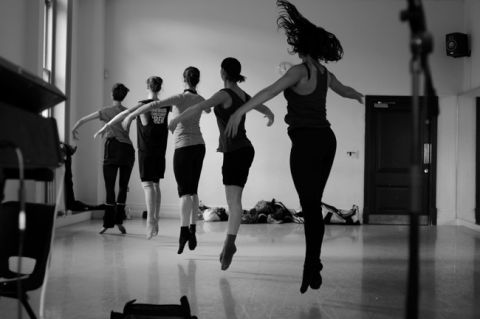 Company
Sadler's Wells and the Fruitmarket Gallery
Production
Martin Creed (choreographer music, visuals), Rob Eagle (Video operator)
Performers
Dancers - Kerry Biggin, Delphine Gaborit, Eleanor Forest, Nadia Sadiq, Mikah Smillie; Musicians - Martin Creed (guitar, voice), Keiko Owada (bass), Ben Kane (drums), Genevieve Murphy (pianist
Martin Creed won the prestigious Turner Prize in 2001 for "The Lights Going On and Off (work 227)."  As well as being a visual artist, Creed is a musician, writer and film-maker, inspired by all aspects of the arts, performance and popular culture.
Sadler's Wells commissioned him to choreograph his first dance piece, Ballet Work No. 1020, as a collaboration between dance and other art forms. For those who are expecting a ballet performance, you are in for an exciting, improvised music, movement, dance, comedy, video experience.
Martin Creed wanders casually on stage and addresses the audience like a stand up comic, checking to see if the mike is working. He seems surprised to see a packed theatre waiting for a performance of some sort and appears uncertain as to what should happen next. "What do you want me to give you?" he asks tentatively. He's keen that we like him and his show.
Members of his band arrive one by one, keyboards, drummer, guitarist, synthesiser. A metronome is set ticking, we hear the lowest and highest notes of the piano, as lights flash on and off. With deadpan wit, Creed explains that we have to start at the beginning. It's a kind of Do, Ray, Me in The Sound of Music moment.
Five dancers, dressed in rehearsal leggings and loose tops, gracefully enter the stage, point, toe, heel, arabesque, representing classic ballet positions, accompanied by single musical notes. Meanwhile, occasional videos are shown on screen – a man kicking a plant pot, scampering dogs, film footage of an adult sexual nature - each flashed for a minute or so, similar to the Monty Python ad hoc images such as "This is a Larch".
Between several ballet sequences, with dancers skipping, walking and hopping symmetrically across the stage in lines and diagonals, the band bash out a few punk rock songs, volume and tempo rising accordingly. With a mish mash of humour, ad libbing and rhetorical questions, it's eccentric, imaginative, self-indulgent, artistic. Drawn into the whole repetitive, rhythmic music and movement, beat by beat, step by step, this is an utterly hypnotic multi-media performance.
Show times
Till 15 August (different times daily, check Fringe programme)
Ticket prices
£19 (£13) and £17 (£12)