Image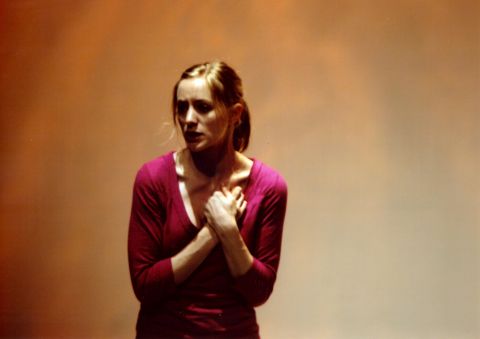 Company
Richard Jordan Productions Ltd in association with Assembly
Production
Anna Renolds and Moira Buffini (writers), Alex Sims (director) Matt Hall (sound)
Performers
Allie Croker (Shirley)
This is the tragic story of a desperate fight for justice in the complex world of law and order, where an alleged perpetrator may also be an innocent victim of crime. Winner of a Writers' Guild Award, "Jordan" is a powerfully emotional, one-woman play which keeps you guessing as to the outcome, the verdict and the underlying truth.
Against the atmospheric sound of seagulls squawking and crying - you can almost smell the salt-sea air and feel the breeze - a thin, blonde young girl, Shirley (played by Allie Croker) wearing a summer dress and clutching a yellow bag, enters a barely furnished room with just a table and chair. She begins telling the Grimm fairy story, Rumplestiltskin, about the miller who falsely claims his daughter can spin straw into gold in order for her to marry the King.
Shirley then reveals that she has spent a year in prison and is now in court for the trial. She lights a cigarette in celebration. In the bright light of this cold, sparse room, a long dark scar is visible across her right cheek. We soon realise that it's her young son, Jordan, she is talking to, and she slowly begins to describe the painful episodes of her teenage life.
"I never knew what loving someone was before you...Know what the worst thing about prison is, Jordan?...For me, it's the visiting room. It's other people's kids, you see...When they come and get me it'll be for the last time. Then the waiting will be over. And then I'll know."
In a series of "flashback" memories, she relates anecdotes of childhood, living with her dysfunctional family in Morecambe where her mother would be beaten by her father, who bought yellow flowers to say sorry. As a way of escape she is seduced by Davie and his motorbike, a charmer from "glamorous" Birmingham. But like mother, like daughter, she has fallen for the wrong man.
This perennially topical news headline of domestic violence is dramatised with complete conviction and quiet vulnerability by Allie Coker. Guilty of only trying to protect her son and herself from harm, her dream of family life with Davie and Jordan is far from a fairytale happy-every-after ending. And then, the revelation that the terrifying ordeal of this girl is based on real life events, hits the audience with a final punch as the lights go out.
Show times
Till 30th August (not 18) at 1pm
Ticket prices
£12 (£11), £11, (£10)