Image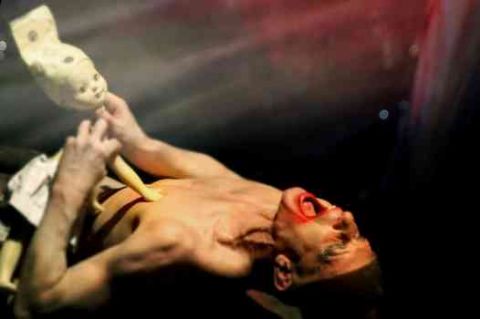 Production
Anton Adasinsky & DEREVO (Idea & Conception)
Performers
Anton Adasinsky, Elena Yarovaya, Anna Budanova.
This is going to be both the easiest and hardest review for me to write. Derevo is renowned for its physical theatre and the absolutely stunning visual imagery of its shows. Harlekin, playing at the Pleasance Courtyard, is no different. Without doubt, it has been the most impressive show I have seen at the Fringe so far and how to do it justice is a challenge.
The story of Harlekin and Columbine might be familiar to some people and perhaps unknown to the vast majority. But the figure of Harlequin (Harlekin in this production) will perhaps be known by just about everyone. Always appearing in a suit of chequer board diamonds possessing a humorous, cheeky, and funny character, in this production we begin to see the darker side, the sometimes malevolent and angry Harlekin, a man who literally has the heart torn out of him and eaten before his very own eyes.
Derevo's Harlekin presents one scene after the next, each iconic and visually dazzling, unique. The stage is filled raw visceral emotion and then subtle considered jokes and funny vignettes. The imagination, creativity and inventiveness that is brought to every single minute of this production means you are left digesting the show hours, days probably weeks later.
This is not just a stage production it's a phenomenon, like an exploding star where so much energy is released everything around it is engulfed and lost in its power. If I were trapped in some strange Kafka novel where I had to sit and watch the same play for the rest of eternity I would pick Derevo: Harlekin as the production to watch, as I would never ever lose interest.
Times
13-30 August, 1pm

Ticket prices
£12 - £14