Image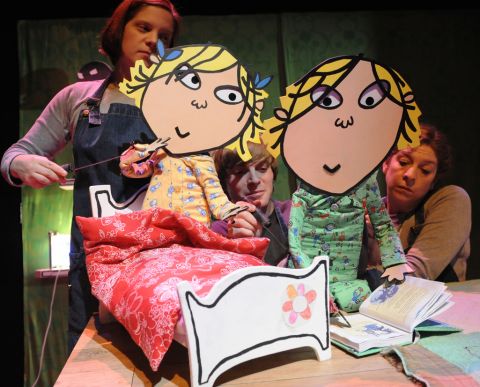 Company
Watershed Productions, BBC Worldwide and Polka Theatre production
Production
Roman Stefanski (director)
Performers
Puppeteers Ceri Ashcroft (Lola), Andrew Cullimore (Charlie), Matthew Crowfoot (Soren Lorenson), Aya Nakamura (Bat Cat)
The Pleasance Courtyard is well set up for the arrival of small children. There is a fenced off eating area with a play house, kitchen and tables and chairs, just the right size for wee people (along with some for bigger folk!).
Nearby is a seaside style, head-through-the-hole board where fans can 'be' Charlie and Lola, the nation's favourite brother and sister, for a special photo opportunity. It helps set the tone for the already excited fans and that's before they get to the activity programme and Charlie and Lolaballoons!
The two well-loved characters were created by the now award-winning and world wide bestselling writer, Lauren Child, and have been brilliantly adapted for this show by Jonathan Lloyd who is artistic director with Polka Theatre. Specially made puppets have been used with the voices from the popular TV series, bringing the popular siblings to life on stage.
"I have this little sister, Lola. She's small and very funny", says Charlie, the infinitely patient and protective seven-year-old big brother of his annoying but loveable four-year-old sister.
These characters are not anthropomorphised animals, just a boy and girl having adventures. Like in classic Tom and Jerry, no authority figures actually appear in this funny, otherworldly, yet identifiable, private world of children.
The show opens with the happy xylophone signature music familiar to the youngsters along with strewn toys across the stage in Lola's messy room, no doubt also familiar! The unique style of art, a combination of drawing, photographic images and real materials, is skilfully maintained in the show.
The four grey-aproned, exuberant puppeteers managed to be visible yet invisible, defying the convention of wearing black. Like them, Lola's imaginary friend, Soren Lorenson, was invisibly grey. In the fantastically choreographed BIG TIDY scene, they never missed a beat while making it all look like great fun. Tremendous skill!
The show was cleverly put together with a series of familiar themes like Charlie's broken rocket, eliciting the comment "I know what happens."
This is a magical just-under-an hour of bubbles, butterflies and buffaloes; tigers, whales, ogres and dancing dogs. The verdict from my 3 ½ year old companion? "The bestest show!"
This show is part of a national tour details of which are at www.watershedtheatre.com.
Show Times
Til 18 August (not 11 August), 10.00am & 11.30am
Tickets
£10-£11