Image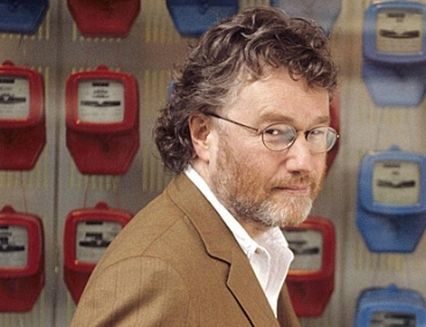 Production
Edinburgh International Book Festival
Performers
Iain Banks, Al Senter
Described as one of Scotland's beloved literary sons and as the "Sage of North Queensferry", Iain Banks has published 23 novels since The Wasp Factory burst onto the literary scene. With that first book now issued as a 25th Anniversary edition we flit back and forward through his life and career – and end up going in circles.
It's a career that has seen him switch fruitfully between mainstream and (as Iain M Banks) science fiction works. His latest novel Transition, described as "an apocalyptic tale for terrible times", is set between the dismantling of the Berlin wall and the destruction of the Twin Towers in a world guided by the shadowy and all-powerful Concern, who's agents can flit between bodies in parallel realities to bring about what they see as beneficial outcomes.
It's somewhat of a return as well as a transition as Banks explains to arts Journalist and broadcaster Al Senter. He feels that it's 51% mainstream and is an attempt to return to the time of 1986 novel The Bridge, the point where the two strands of his writing where nearest conjoined – "before the big bang" he extemporises. It was with the publishing of Consider Phlebas the following year that his science fiction writing developed and his mainstream work became more so.
Even with the passage of time the 1980's Thatcherist cult of "greedism" has followed into Transition, represented by Adrian Cubbish a city trader and arch-capitalist. Past experience has also helped form the ruthless Madame d'Ortolan, de facto head of The Concern's Central Council. Banks tells that her creation was spurred by his dissatisfaction with the family matriarch, Grandma Win from The Steep Approach to Garbadale.
Senter comments that the book contains more sex than usual. More "fruity" Banks admits with relish, but not a "bonk-buster" he maintains while flirting with the idea of writing porn as Iain X Banks. The idea of experimenting with the ability to swap between bodies proved irresistible and he posits that any new technology has been used for sex, citing early photography and the internet. There is also a certain frisson in having the freedom to explore these areas for writers born in the era of the obscenity trial over D H Lawrence's Lady Chatterley's Lover. The notion of parallel universes also proved irresistible, but while accepting that there are persuasive arguments for a multiverse, Banks is actually attracted by the idea that ours is the only reality.
So, past his Silver Jubilee "how do we find him?", asks Senter. "Greyer, older, fatter" jokes Banks. And possibly angrier. Certainly he admits to having been angry since March 2003 (the time of the invasion of Iraq which he views as "illegal, unnecessary and immoral") and recent political events have made him no less so. Multiverse or not our world is sufficiently removed from the utopian Culture of his novels to cause him distress – banks, bonuses, greed, injustice, torture and conflict all have potential to make him ashamed of a society he feels part of. It's something that he feels he can address from his position as an author while admitting to not being a team player. He has most recently taken up cudgels against the "outlaw state" of Israel, calling for a cultural and educational boycott following the "murderous attack on the Gaza bound convoy". He admits his own embargo, while causing a ripple with his US editor, has perhaps caused less reaction than he would have liked.
Questions from the audience return us to the process of creating his novels. Viewing authors basically as entertainers he is aware of the need to make his novels work for the booklover and also to provide subsequent gratifying readings. He describes his method of planning, including colour coded characters to ensure pacing. He admits to some concern that age would lessen his number of unique ideas, which he sees as vital to his science fiction works in particular – mainstream works just need to be well done but not necessarily original. Happily any diminution has been balanced by being better equipped to utilise concepts. While we are not likely to spot many influences in his work they include the Marx Brothers, Monty Python, the Goons, Shakespeare, Tolstoy, Jane Austin, Graham Greene, Alan Warner and specifically the novels Catch 22, Fear and Loathing in Las Vegas, and Alasdair Gray's Lanark.
His next book is Surface Detail, a Culture novel(released 7 October 2010). The utopian Culture, he tells us was created to reclaim the moral high ground of space opera where so much of the genre was right wing. It was also a reaction against the raft of Orwellian works. The new book "begins with a murder…and will not end until the culture has gone to war with death itself". Banks describes it as "internal turf wars". 
We end 800 years on - or perhaps 825 years.