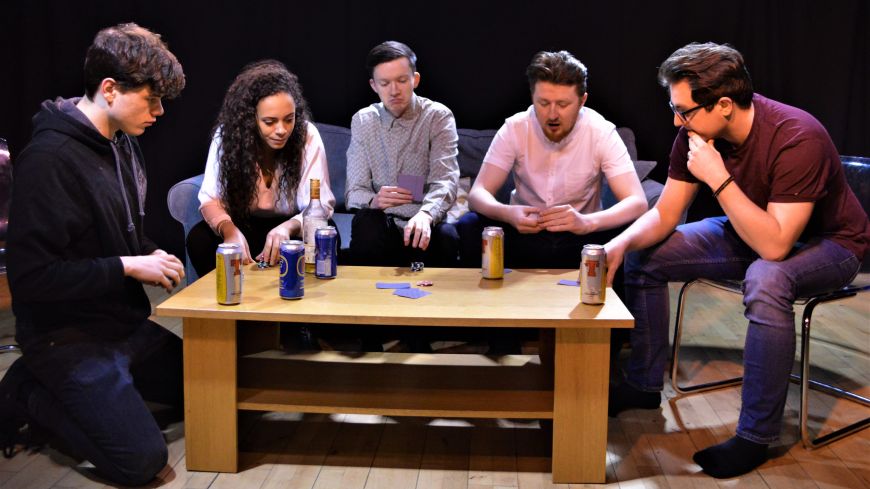 Company
Twelve Twelve Theatre
Production
Drinks For The Old Man: Andy Robertson (writer & director).
Pharmacy Island: Jim Rennie (writer & director)
Performers
Drinks For The Old Man: Sean O'Brien (Billy), Saskia Ashdown (Ashley), Andrew Cameron (Harry), Charlie West (Sean), Michael Dallas (Rick).
Pharmacy Island: Cait Irvine (Suzie), Hannah Bradley (Cathy).

Edinburgh-based Twelve Twelve Theatre is a new company with a big ambition. During 2018, they plan to write, produce and stage twelve new plays in twelve months (hence the name, presumably). It's a laudable goal, but are they mad to even try? Having skipped January (frantically preparing for lift-off, presumably) they're still on target as they open at The Wee Red Bar with a February double-bill.
The choice of venue really works for this young, emerging company. Situated in the grounds of the Edinburgh College of Art, The Wee Red Bar is known for its cheap drinks, live gigs and a permanent whiff of youthful insouciance that strikes a cool, edgy note. As expected, it's mostly populated by the under 30s, although there are also a few mums and dads mingling in the crowd, trying not to look conspicuously out of place.
The first play, Drinks For The Old Man, is a pacy and energetic scene of three brothers meeting to discuss their father's funeral arrangements. As they sit around the coffee table in Billy and wife Ashley's living room, the drink flows, the banter gets bawdy, funny stories are shared and punches are thrown.
There is humour in the crisis of masculinity displayed, as each of the brothers finds their own way of avoiding the 'f' word. Here, feelings can never be addressed or voiced head-on, but are displaced into physical action, rough-and-tumble style, that either culminates in a bit of light beating, or in a self-consciously awkward man-hug. Their friend Rick, played with understated comic perfection by Michael Dallas, provides some light relief, but it's down to Ashley, the only female in the group, to bring calm and sense to the evening's shenanigans with some sharp words and a few home truths. This is a meaty slice of real-life drama, with strong, identifiable male characters, all played with a grit and realism that is totally believable. Unfortunately, the female character, played well by Saskia Ashdown, feels a little predictably one-dimensional.
Leaving far behind the sense of the real and the identifiable, the second play, Pharmacy Island, is strange and disconcerting. Psychic Suzie cons people out of their hard-earned in exchange for communication with their dearly-departed. But in a neat twist, we discover that Suzie is haunted by the memory of her dead five year old son, whom she sees sitting in her chair and whose voice never stops talking in her head. When Cathy turns up at her door, needing to get in touch with her dead dog, it is she who ends up counselling Suzie.
This is a tricky play that veers between over the top characters playing for laughs to tackling some seriously disturbing emotional issues and then back to laughs again. The humour is a little obvious and clichéd but is not helped by the dilemma of working out when the dramatics is drama and when it's comedy. The actors give it a good go but it could do with a bit of re-balancing.
All in all, it's an entertaining evening from a company that shows real talent in both writing and acting. Together with a powerful energy, enthusiasm and optimism that can only come from the young, and with the need of just a bit more experience under their belt, they are nevertheless a company to look out for in the future.
Ran 5th – 8th Feb