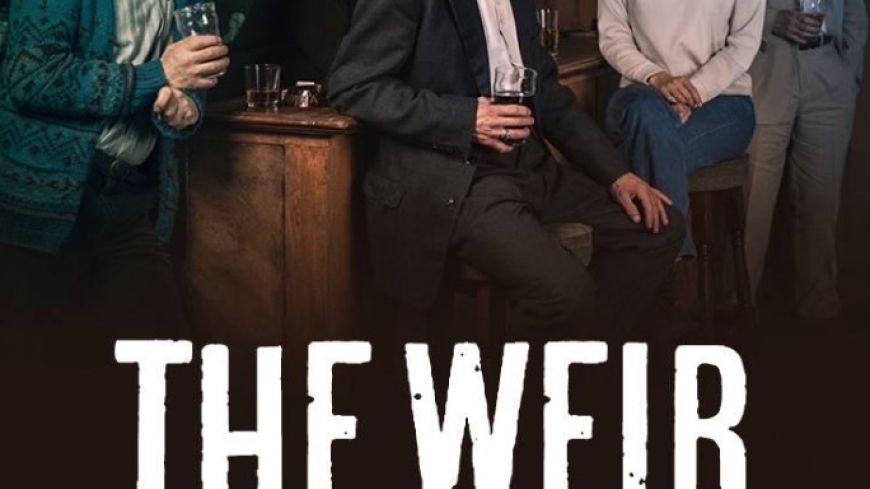 Company
English Touring Theatre
Production
Conor McPherson (writer), Adele Thomas (director), Madeleine Girling (designer), Lee Curran (lighting designer), Richard Hammarton (composer and sound designer), Katie-Ann McDonough (assistant director), Dara Hoban (assistant lighting designer), Hugh O'Shea (dialect coach), Kev McCurdy (fight director), Ginny Schiller (casting director)

Felix Davies (production manager), Robyn Clogg (company stage manager), David Preston-Rider (deputy stage manager), Natasha Harper-Smith (assistant stage manager), Daphne Bates (head of wardrobe), Mercury Theatre Colchester (set construction), Joe Dickens (tour technician), Tim Bray (relighter), Marc Brenner (production photography), Joe Public (marketing consultants), Kate Morley PR (press representation)
Performers
Louis Dempsey (Finbar), Sean Murray (Jack), John O'Dowd (Jim), Sam O'Mahony (Brendan), Natalie Radmall-Quirke (Valerie)
Lights flicker in a cosy, small town Irish pub. Eerie music plays so softly it plays tricks on your mind, making you wonder if it's really there or if you're imagining it. This is the set of Conor McPherson's The Weir , a work that's just over twenty years of age, having first debuted in the Royal Court in 1997.
Local pub owner Brendan, played by Sam O'Mahony, has an unassuming establishment here in a sleepy town away from the city centre of Dublin. The tap may be off, but the company is in fine supply this evening, with fellow townsmen Jack (Sean Murray) and Jim (Jim O'Dowd) around. Passing back and forth the chit chat, they soon give way to the entrance of the veritable "man about town" Finbar, played by Louis Dempsey, who's made his fortune in Dublin and bought half the small town in the wake of that. He's showing around newcomer Valerie whose sudden appearance in this town remains mysterious until nearer to the end of the play. Chat turns to storytelling which then turns into a round table of ghost stories and fairy tales, all starting around The Weir, which fittingly gives the play its name.
The wind howls as the hushed and fevered recounts of unexplainable occurrences are shared amongst the five inside the pub. This is a slow and warming experience, steeped like a strong cup of tea. Irish folklore is a tradition woven deep throughout the culture, storytellers held to high esteem. Tales of supernatural not only serve as a means of imagination and enchantment in everyday life, but, below the surface, they serve as an expression and deliberation of life's unanswerable questions. The spooky stories and otherworldly lore of the evening yield to Valerie's turn to tell her story of why she's arrived and of her own hauntings. These break from the more fantastical accounts and bring the group to a chilling and sobering realism. Fact blurs with fiction and suddenly the line between ghost story and tragic reality starts to fade. Do these ghost stories serve as mere tradition and entertainment? Are they comforting, scary, or both?
It was Neil Gaiman who once said, "The point of telling scary stories is inoculation. You get to take and deal with a little bit of the things that scare, and hurt, and damage us." The Weir certainly has a lot to say on that note. Going further to that point, Gaiman paraphrases G. K. Chesterton in stating, "Fairy tales are more than true – not because they tell us dragons exist, but because they tell us dragons can be beaten," which, if Valerie could know, might provide some solace for her.
An emotional, ponderous piece that feels as homely as its set, The Weir is an array of regulars with irregular tales to tell, warming themselves with a pint and a seat round the fire as the audience warms themselves with the stories and the glow of the King's Theatre.
Tues 20 to Sat 24 February