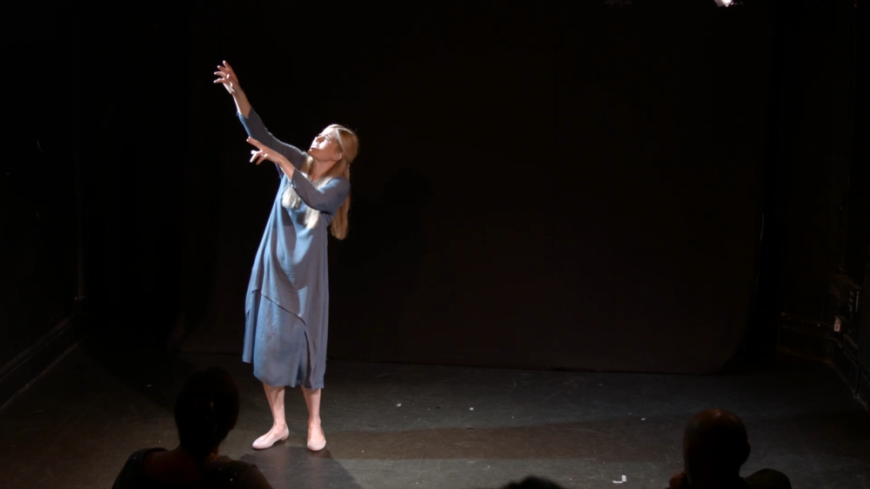 Company
Kate Maravan in association with Authentic Artist Collective
Production
Kath Burlinson (Director), Vincent Manna (Movement Direction), Adrienne Quartly (Sound Design), Ellie Fitz-Gerald (Producer)
The Old House is an autobiographical show written and performed by Kate Maravan exploring memory, maternal relationships, loss and the hokey cokey. A mother and daughter return to their family holiday home after decades, reminiscing on memories while mother's mind is fading and daughter's still struggles to accept past trauma. Amidst confusion, questions, reflections, fights and laughter, the duo acknowledge and address their fears in the comforting surrounds of the seaside, as discoveries and acceptances ebb and flow like the tide.
Convincing in her physicality, Maravan seamlessly switches between the role of mother and daughter, beautifully showcasing two distinct people on a bare stage, accompanied by an invoking soundscape from Adrienne Quartly. The steady changes between scenarios are as natural as breath, except the small use of voiceover, which deflects from the accepted notion and rhythmical style and pulls you out of the story.
Directed by Kath Burlinson, interactions between mother and daughter flawlessly intersperse fragments of poetry, choreographed by Vincent Manna adding just the right amount of movement, highlighting the characters' interwoven journeys of loss and finding new places of peace, with some exquisite turns of phrase from Maravan.
Regardless of if you have experience with dementia or not, The Old House channels the taboo and allows an honest representation of experience, resulting in a thoughtful and reflective production with waves of humour and devastation, delivered by a talented performer who channels difficult experiences creatively to inform others with care and thought.
We can all relate to the core message of how sadness, fear or frustration can be directed into discovering the person as they are now to experience a new connection in the moment, rather than through rose-tinted memories of when.
Run Ended. For further information visit www.katemaravan.com
© Lindsay Corr, September 2019