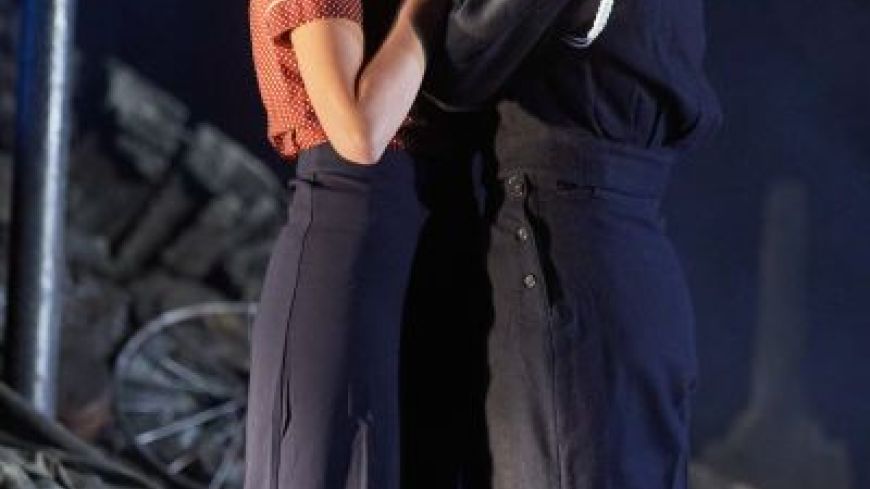 Company
Original Theatre Company
Production
Sarah Waters (Author); Hattie Naylor (Playwright/Adaptor); Alastair Whatley (Director); David Woodhead (Set & Costume Designer); Nic Farman (Lighting Designer); Max Pappenheim (Sound Designer); Sophie Cotton (Composer); Ellie Collyer-Bristow CDG); Lucy Cullingford (Movement Director); Tom Hackney (Producer); Peter Stickney (Associate Producer); Sam Harding (Assistant Producer); Felix Davies (Production Manager); Ryan O'Conner (Props Supervisor); Siobhan Boyd (Costumer Supervisor); David Morgan (Wardrobe Master); Tim Speechley (Company Manager); Chloe Walker (Deputy Stage Manager); Sam Charrington (Graphic Design); Michael Wharley (Artwork Photographer); James Findlay (Rehearsal Photography); Mark Douet (Production Photography); Harrogate Theatre Scenic Services (Set Building & Painting); Dressing Room 5 (Marketing)
Performers
Mara Allen (Mickey/Mrs Alexander); Louise Coulthard (Viv); Malcolm James (Mr Mundy/Mr Wilson); Sam Jenkins-Shaw (Robert Fraser/Cole); Lewis Mackinnon (Duncan); Phoebe Pryce (Kay); Florence Roberts (Helen); Izabella Urbanowicz (Julia/Mrs Leonard)
Set in an atmospheric 1940s London, this looks at the impact of war and the unexpected changes it brings. The intertwined group of people around which the story flows step in and around each other, somehow touching each other's lives but not quite connecting, despite all having something in common: each has a life that, were it being lived today, would be lived with far less fear, a life not hidden in plain sight.
There is a strong ensemble on stage and, while there are core characters that inhabit the stage more, the roles feel mainly balanced. There are some lovely moments where different conversations are happening at once and the choreography of the movement between both just flows, with the moving actors almost gliding through the text, physically and verbally.
The first act gets off to a slow start and the pace does not take off until later within the second act. This is accompanied by a somewhat confusing unfolding of information in the first act which, for those have not read the book, although setting the scene, seems to meander into pockets of stories with little connection. It is perhaps the heaviness with which the text is weighed that contributes to the speed of the first act: the content lies on the shoulders of the characters, a burden that could be lifted from time to time. It is in the second act that the hints from earlier take root and flourish.
David Woodhead's set is striking. Featuring a bare bones carcass of a house, piles of rubble and a distant outline of London itself, it feels as if this set embodies the characters of the play: still standing, but a little charred around the edges and surrounded by the broken pieces of their former solid lives. Nic Farman's lighting makes wonderful images with this backdrop and manages to create scene changes with deceptively simple adjustments.
Despite the changing dynamics of the piece, the ending still manages to be unexpected, leaving an impression that lingers, about chance encounters and the ever-changing world in which we live.
Times: Wednesday 16 – Saturday 19 October @ 7.30pm, matinees Wednesday 16 & Saturday 19 @ 2.30pm, then on tour until 23 November.
Tickets: £18.50 - £32.00
Photo by Mark Douet