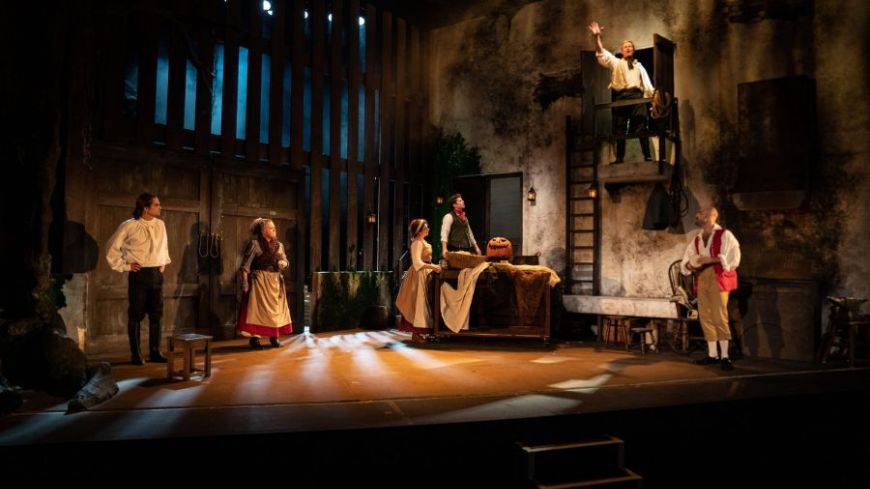 Production
Philip Meeks (writer), Jake Smith (director), Amy Watts (designer), Jason Addison (lighting designer), Sam Glossop (music and sound), Filipe J. Carvalho (illusions director), Chris Cuming (movement director), Jonathan Holby (fight director), Josh Mathieson (dialect coach), Alys MacGregor (assistant director), Molly Syrett (costume supervisor), Tilted Wig & Churchill Theatre Bromley (producers), Paul Debreczeny (production manager), CSM Dave North, DSM Sophie Duffin, Chloé Nelkin Consultants (PR), Holly Gillanders (education pack), Craig Suden (photography)
Performers
Wendi Peters (Widow Marietta Papenfuss), Bill Ward (Baltus Van Tassel), Sam Jackson (Ichabod Crane), Tommy Sim'aan (Joost de Groot), Lewis Cope (Brom "Bones" Van Brunt), Rose Quentin (Katrina Van Tassel),
On a rainy Edinburgh night, it is always a luxury to take a seat at the ornate King's Theatre, an intimate and lush setting for suspenseful theatre. It is good to be back in this beautiful space after so long. This time the curtain rises on gothic myth The Legend of Sleepy Hollow.
When it comes to the horror genre, journalist and biographer Washington Irving, born in 1783 and named after first American president George Washington, carved out arguably the earliest of American-made creatures with his Headless Horseman, but this is no simple retelling. This Tilted Wig production tells the story of Ichabod Crane, a city boy from Boston that comes to the sticks of foggy Sleepy Hollow, seemingly to open a school but concealing a darker motive behind his arrival. Perhaps inspired by Irving's obsession with President Washington and early American history, this piece delves into the origins of the Horseman as part of the consequences of New World colonisers encroaching on territory more supernatural than that of the Native Americans. The suspicious, long-residing inhabitants of this Sleepy Hollow also harbour a sinister secret, and the truth lies in the legends of the betrayals and bargains of America's earliest immigrants.
At times, the American accents amongst the cast waver and British pronunciations of words like "herbs" and "apothecary" all but burst the illusion. While some illusions fall short in this production, others, namely a mystical character switch (Filipe J. Carvalho), shadow imagery (Jason Addison) and eerie sound design (Sam Glossop), work quite well, eliciting audience awe (and a few screams). Set design by Amy Watts is also successful, featuring a rustic and versatile kitchen and courtyard combination. Clever costume design (Molly Syrett) is on display; the foretelling of Ichabod's fate by dressing him in an orange waistcoat, hearkening back to the notorious jack-o-lantern head is a nice touch. 
While the cast of six do their best wrestling with the manic, bewildering script (Philip Meeks) and juggling the doubling up of motley characters, the performances, barring Wendi Peters as welcome new character - gruff and witchy Widow Mariette Papenfuss, lack depth overall, the role of antihero Ichabod Crane a bit too big for the britches of Sam Jackson. The first half hour of the production could simply be omitted; it adds little to the plot and quite a bit in confusing exposition, the actors chewing on the wordy dialogue. Most of the dance and movement interludes featured could be attempts at conveying a sense of ritual and tradition within the mysterious small village, yet, in execution, are just out of place. 
This reimagining strays almost too far from the original tale to be considered an adaptation and it is too ambitious, aiming to weave at least three disparate messages into one revised story: a timely exploration of logic versus conspiracy (or man versus magic), sexual orientation identity acceptance and a rejigging of the monster behind the notorious decapitated rider by way of the Wendigo, a cannibalistic creature popular in Appalachian and Algonquin America that legend says can be attracted by merely uttering its name (readers beware). Casting the Wendigo into the classic fable of Ichabod Crane is an intriguing and at times entertaining angle, even if the details of how the story weaves this in get messy and muddled. So many new monsters, ghosts, creatures, characters and subplots are introduced throughout the two hours and twenty-two minutes that this piece could, in fact, be renamed The Legends of Sleepy Hollow. 
Without some serious editing and more spooks, this iteration of The Legend of Sleepy Hollow is more scattered than scary.
Age guidance 12+
Tue 9 Nov - Sat 13 Nov 2021
Evenings 7:30pm | Matinees Wed & Sat 2:30pm
Tickets from £18.50 here