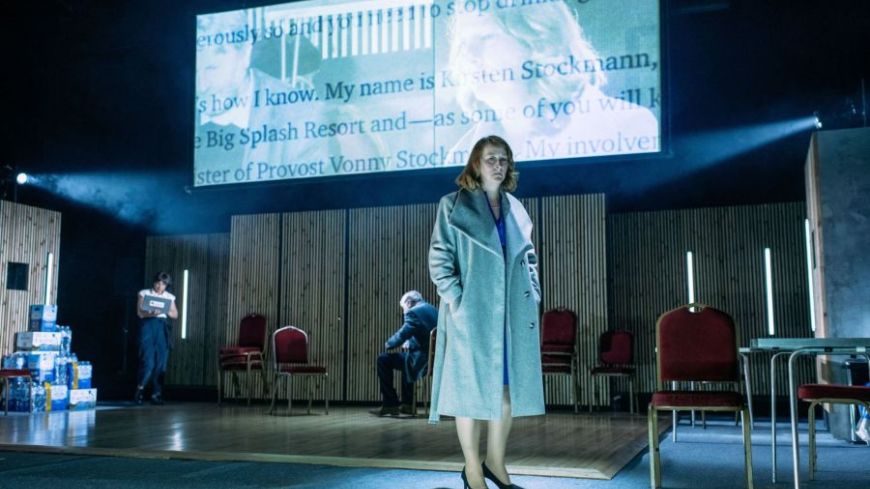 Company
National Theatre of Scotland
Production
Kieran Hurley (writer, after Henrik Ibsen), Finn den Hertog (director), Lewis den Hertog (video design), Matt Padden, (sound), Rosanna Vize, (original set design), Kathryn Joseph (composer), Katharine Williams, (lighting design), Jen McGinley, (set and costume design), Vicki Manderson and Robbie Gordon, (movement directors), Leonie Rae Gasson (assistant director).
Performers
Hannah Donaldson, (Dr. Kirsten Stockmann), Billy Mack (Derek Kilmartin), Neil McKinven (Benny Hovstad) , Taqi Nazeer (Aly Aslaksen), Gabriel Quigley (Vonny Stockmann), Eléna Redmond (Petra Stockman)
The impressive, open plan set features wood panelled walls, a couple of office desks and the corner of a kitchen with sink, kettle, table and chairs.  A video documentary on a large screen illustrates the dilapidated buildings and poverty-stricken community of a deprived Scottish town. But a major new leisure centre, Big Splash with a pool, indoor beach and water park is all set to rejuvenate the local economy with jobs and tourism.
The Enemy is a re-imagined, updated version of the The Enemy of the People, (1882), Henrik Ibsen's drama of social realism concerning Dr. Stockmann who discovers that the local Spa water is polluted. When the mayor is informed of the situation, he chooses to protect the town's income by preventing Stockmann from publishing his report.
A similar scenario now unfolds as Dr. Kirsten Stockmann, the director of the new leisure project, having secretly investigated the water supply has received scientific results to show that it is seriously contaminated. Many people have suffered severe sickness, with several children in her daughter's school off sick. Kirsten has no option but to go public which means confronting her own sister Vonny, the Provost of the Town Council.
Reflecting our instant, IT-text-zoom call-social media dominated society, much of the narrative is dramatised on screen through video clips, scrolling messages, (often too fast to read), and mobile phone calls. All reminiscent of many recent TV crime dramas – but rather too much reliance on live camera shots with ad hoc images such as the parquet floor and an ice-cream sundae, often distracts from the dialogue and performances on stage.
Kirsten threatens to expose the unpalatable, inconvenient truth in the media about the toxic water while Vonny is determined to carry on with the launch of Big Splash and win the City of Regeneration award. "Just drink this glass of water" suggests the good Doctor. 'Kill the fxxxxxx story!", is the rapid response from the strong-willed Provost.
Kirsten's teenage daughter Eléna has an important role as the voice of youth; having seen the movie Jaws for media studies, she gradually accepts that opening Big Splash with a risk to health and safety is akin to allowing holiday makers on the beach with sharks lurking in the bay.  
Ibsen is regarded as the father of modem drama and no wonder. Like The Doll's House and Hedda Gabler, this is a play for today about environmental issues versus economic interests, professional responsibilities, morality, corruption and whistle blowing.  The same dilemmas echoed in the fictional Jaws and the true events of Erin Brockavich.  
There's a good deal of humour too flowing through the fast paced, gripping story, with the tight knit ensemble of characters – a DJ, journalist and grandfather – each with their own agenda.
Centre stage, are the two warring sisters both portrayed with cool, crisp conviction - Hannah Donaldson as Kirsten who clearly sees what's right and wrong, appropriately dressed in black jeans and white shirt, and Gabriel Quigley as Vonnie, (the boss - all high heels and chain of office; in a series of intense, intimate scenes they are both dogmatic in their own beliefs preparing for a professional fight and personal fall out.  
Just like the mixed messages during the Covid lockdown, do you listen to the scientists or politicians.?
As the Scottish drama critic William Archer was a pioneering advocate of Ibsen, the first to translate his plays into English, it is most fitting for the National Theatre of Scotland to stage this sharply-perceived, slick and stylish adaptation of a timeless classic. A moral tale about suppressing the truth as powerful and provocative in 2021 as in 1882.  
Show times:
Kings Theatre, Edinburgh, 20 - 23 October, 2021
Evenings @ 7.30pm. Matinee on Sat 23 Oct @ 2.30pm
Ticket prices: £15 - £33.50
On tour:
Eden Court, Inverness (27 - 30 October); Perth Theatre (3 - 6 November)