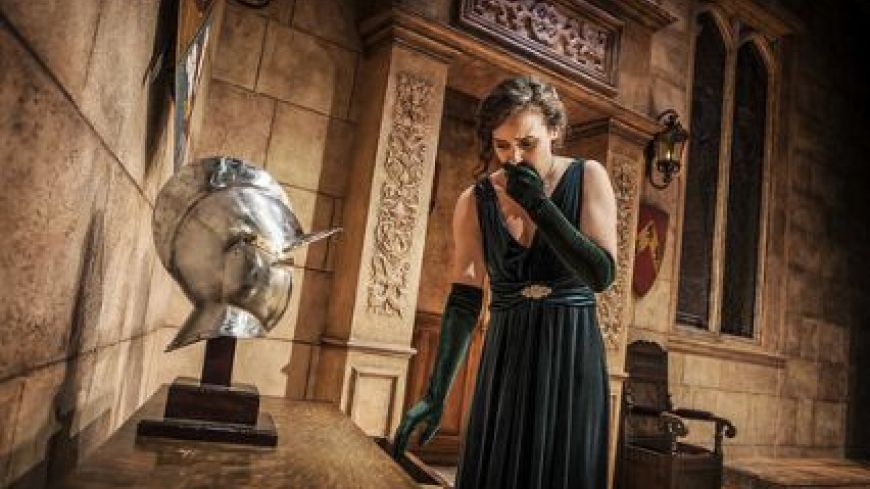 Company
The Classic Thriller Theatre Company
Production
Edgar Wallace (writer), Antony Lampard (adapter), Roy Marsden (director), Julie Godfrey (designer), Chris Davey (lighting designer), Dan Sampson (sound designer).
Performers
Gray O'Brien (Chief Superintendent Tanner), Rula Lenska (Lady Lebanon), Denis Lill (Dr Amersham), Charlie Clements (Detective Sergeant Totti), Philip Lowrie (Kelver), April Pearson (Isla Crane), Ben Nealon (Lord Lebanon), Glenn Carter (Gilder), Rosie Thomson (Mrs Tilling), Callum Coates (Brook), Owen Oldroyd (Tilling), Joshua Wichard (Studd).
If the walls of the stately Marks Priory, seat of the Lebanon family, could talk they would speak of history, heritage and bloodlines; but perhaps they would also spill a few dark secrets.
Guests, family and staff mix in the grand Romanesque hall preparing for a fancy-dress party, but the mood is more fraught than festive, the night tense with the approaching storm and simmering resentments.
Tradition is more important than holy writ to her Ladyship and her faith is unshakable in that lineage, the same blood, is all that counts. It's something that she will go to any lengths to preserve, using family money to keep things safe and clandestine. But there are rumours, and if the walls don't have ears the always skulking and listening footmen surely do.
When flirtations amongst staff and strains between upstairs and downstairs are revealed there are more than a few suspects when inevitably murder comes calling. Even in its face, aristocratic Lady Lebanon is steadfast in upholding order, attempting to close ranks because there is something else with a hold over them and they are "deep in it". The past will catch up.
While the detectives resolutely try to unravel the case, the red silk scarf used as a murder weapon provides a clue to what ties them together and the undaunted efforts to have his young Lordship tie the knot with "well born" cousin Isla Crane makes her increasingly frightened.
The action sees constant coming and goings through the great hall, which serves as a crossing point for all the plot lines and a scene for a procession of cross examinations by the detective duo.
The play is reasonably paced, lavishly good looking and slickly performed by a host of well-known faces, but it's of its time (1932) and not the most engaging or thrilling whodunnit. Edgar Wallace is cited as "King of the Modern Thriller" with a prolific output, including plays which attracted well-known actors. Equally he has been criticised for relying on much pointless movement to convey a sense of action.
Not perfect, but as the 1941 edition book jacket stated "It is impossible not to be thrilled by Edgar Wallace".
Show Times: 26th to 31st March 2018 7.30pm. Matinees Wednesday and Saturday 2.30pm.
Duration: Approx 2 hours 20 mins (includes 20 min interval)
Tickets: £19 - £32.50 (concessions available)
Suitability: 10+