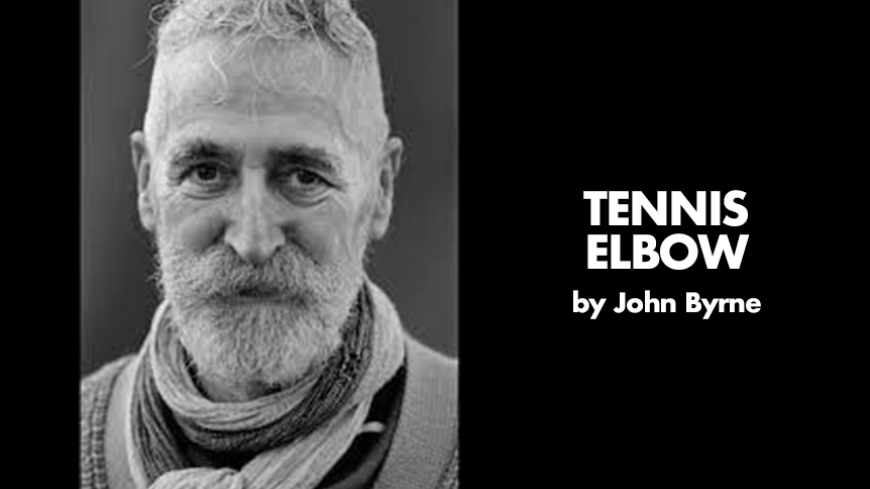 Company
The Royal Lyceum Theatre Edinburgh and Pitlochry Festival Theatre in association with Naked Productions Ltd
Production
John Byrne (Writer), Elizabeth Newman (Director), Blythe Jandoo (Assistant Director), Olly Thomas (Executive Producer), Benjamin Occhipinti (Composer), Louis Blatherwick (Sound recordist), Alisdair McGregor (Sound designer)
Performers
Maureen Beattie (Narrator and Mother Scholastica); Cherylee Houston (Mrs Ripper); Brian Ferguson (McDade and Denholm Pantaloon); Jessica Hardwick (Reader/Brazil); Louise Jameson (Mama); Anne Odeke (Trusty); Sally Reid (Double Davis); Kirsty Stuart (Pam); Samuel West (TV Announcer) and Fiona Wood (Madge/Winnie/Voice).
Tennis Elbow is John Byrne's first new play in 13 years and the follow up to his acclaimed 1977 Edinburgh Festival hit Writer's Cramp, swapping the protagonists lens from mediocre artist Francis Seneca McDade to his estranged wife Pamela Crichton Capers.
The respected painter, playwright and screenwriter tackles the audio play amidst a pandemic shut down of live theatre, presented by The Royal Lyceum Theatre Edinburgh and Pitlochry Festival Theatre in association with Naked Productions Ltd.
The radio play of yesteryear gets a 21st-century ­incarnation with Sound Stage, an audio-digital platform offering an 'at home theatre experience' complete with virtual bar and post-show talks. The format well serves Byrne's gift for writing stylised, heightened words based on common day conversations and convoluted thoughts, as Tennis Elbow successfully invites us to retreat from our modern world, where brevity's best.
Nitshill Writing Circle is paying posthumous homage to the life of their beloved mentor, Pamela (Kirsty Stuart). Described as a "novelist, nomad, iconoclast, and icon", Pam's life is revisited from school days to prison to marriage to fame then illness, with the reality revealing a witty yet poignant recollection of just another hapless Scottish artist scrambling for appreciation and remuneration in their lifetime.
The flashbacks framed as readings, letters and conversations encapsulate an unapologetic character with Stuart's warm performance radiating from the speakers, hooking you in with a likeable, mischievous protagonist you can't help but support and her exchanges showcase a vivacious supporting cast who master the demanding language.
While Byrne's dense style packed with witty wordplay could be isolating to the uninitiated listener, the ear quickly tunes to his cadence and enhances the audio format, with the descriptive and poetic writing vividly painting a visual accompaniment in the mind's eye. And though a sequel which caters to those that know its predecessor, those unfamiliar with it will not struggle with this story which stands alone in its own right.
Elizabeth Newman assuredly directs, and praise is warranted for Alisdair Mcgregor's imaginative sound design and Benjamin Occhipinti's compositions, which both help to suspend belief and heighten the focus without intruding. Yet there's a bit of a lull as both prose and production struggle to build to the climax, and a sharper edit could help refine the pace between the overarching wit and quieter moving moments. 
Theatre's innovation at embracing technology to adapt and reach wider audiences is definitely a pandemic positive. Yet nothing beats a live audience and being able to see this colourful creation with "in the room" reactions is hopefully a reality we can hope for soon, as I'm sure there's a fair few folk who'd like to meet Pam and her pals.
Tennis Elbow is available online until Saturday 8 May, with some sessions sold out. See https://lyceum.org.uk/whats-on/production/tennis-elbow for full details.