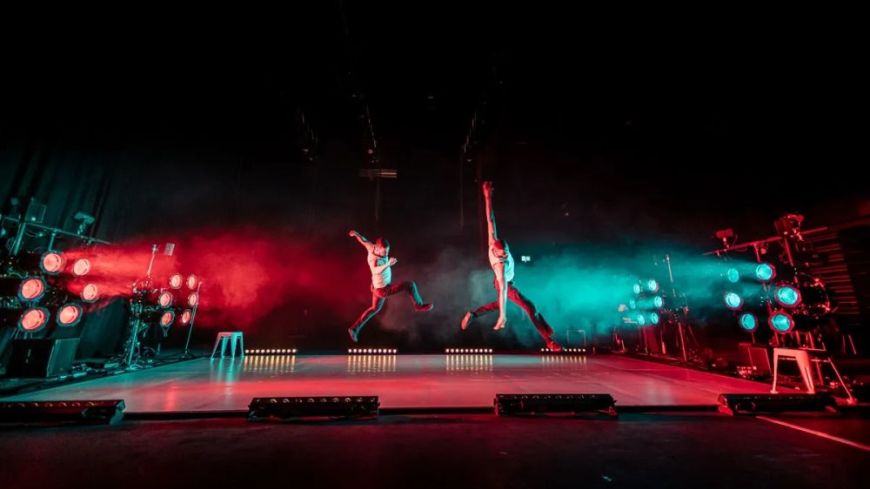 Production
Pete Lannon (director, creator, deviser), David Banks (creator, deviser), Ellie Dubois (creator), Sadiq Ali (deviser), Kim Donohoe (dramaturg), Rishi Trikha (dramaturg, outside eye), Emma Claire Brightlyn (action consultant), Robin Hellier (action assistant), Rachel O'Neill (scenographer / light installation designer), Michaella Fee (lighting designer), Richy Carey (sound designer), Eoin McKenzie (engagement coordinator), Nicola Lawton (producer).
Performers
Sadiq Ali and David Banks.
To an 80's action movie soundtrack we enter the Danger Zone.
The audience are up close to the action, either side of a set reminiscent of a strip of celluloid film and at the same time a boxing ring.
The stuntmen are running through steps, sparring in coordinated martial art type moves but avoiding getting hit, the sort of games children, particularly boys, revel in.
Booted and suited in black, donning multiple holsters and weapons things get more graphic as they perform action movie tropes and enact a series of grizzly deaths, each with violence more ridiculous and gratuitous than the last. Every coup de grâce delivered with the punch line, "See you in Hell, Motherfucker!"
It's a diet of cartoon-like violence David has grown up with. Watching all his favourite movies, featuring all the "action Johns" in the week preceding his own foray into a mixed martial arts bout as a teenager. To him stepping up to violence seems to be the only accepted route and the only roles available are hero or villain.
Young David was introduced to the world of being a stuntman in "Maximum Impact".  Blockbuster it wasn't, unless as a reference to the former high street video store, as the movie goes straight to DVD.  His remuneration is a bruising offer of 50% off the price.
Sadiq has never been in an action movie, actually always wanting to be a dancer.  He thinks he would be shit in a fight but likes to use words to get a rise out of people, to cross the line and annoy them as it makes him feel better, bigger, smarter than someone who would resort to violence.
Their relationship to violence is not like the movies. They are both afraid of men, of what they can do, their strength and power. Sadiq as a victim of a hate crime wants blood but his film-like fantasy might see him a martyred hero or left with nothing other than hate. David knows that provocation can lead to conflict and scars. There are vulnerabilities the action heroes have left them unequipped for.
This is a hugely physical piece of theatre, often silly and funny in its exaggerated satire but with surprisingly tender moments of calmness and beautifully synchronised choreographed sequences. 
The protracted fatalities do become a bit of an overkill and the story is more anecdotal than straight beginning to end but it still manages to hit home.
The performances are credible, charismatic, and engaging, elevated by superb lighting and sound design.
Unusual, clever, and highly professional this could be a sell out hit at The Fringe.
Show times: 14th to 15th October (with BSL) 2022 (conclusion of Autumn tour) at 7.30pm.
Tickets: £12
Suitability: 14+. Contains themes of violence and strong language (including racial and homophobic slurs) and reference to suicide.