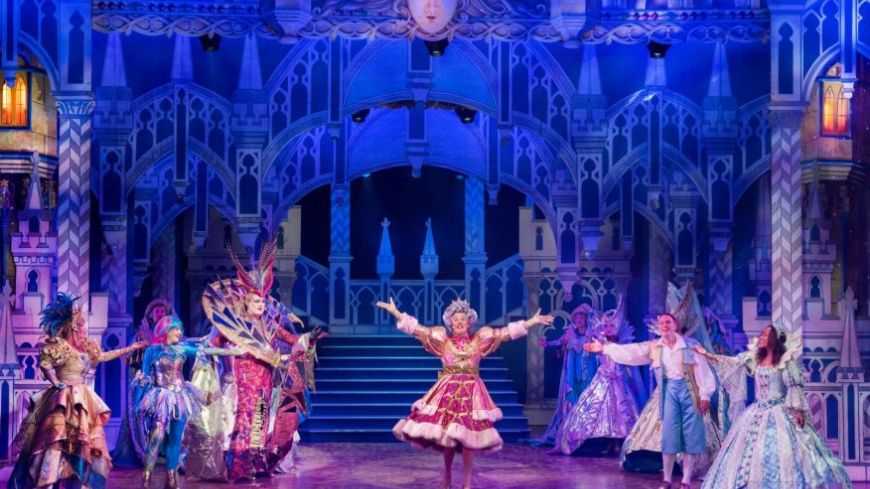 Company
Crossroads Pantomimes
Production
Alan McHugh (writer), Allan Stewart & Grant Stott (writers of additional material), Ed Curtis (director), Karen Martin (choreography), Andy Pickering (musical director), Richard Brooker (sound), Matt Clutterham (lighting), Ian Westbrook (set design), Mike Coltman (speciality costumes), The Twins FX (Visual special effects), Flying by Foy (flying), Maggie Kennedy (head of wardrobe)
Performers
Allan Stewart (Queen May), Grant Stott (Carabosse), Jordan Young (Muddles the Jester), Clare Gray (Princess Narcissa), Nicola Meehan (The Good Fairy), Sia Dauda (Princess Aurora). + Ensemble of dancers. The King's Theatre Orchestra, Andy Pickering ( Musical Director and Keyboard), Andy Mitchell (Bass Guitar), Dave Bryant (Drums, percussion), Gavin Spowart (Trumpet/Flugelhorn), Gordon McNeil (Tenor Sax/Flute)
"Pantomime is the National Theatre of Scotland" commented the actor /director Lewis Casson in the 1920s, defined as " an entertainment mainly for children of stock characters, music, dancers, topical jokes and slapstick comedy, loosely based on a fairy tale." 
The King's presented 'Cinderella' as its first Christmas treat in 1906, (featuring real ponies pulling an elegant carriage); since then the pantomime has become Edinburgh's annual festive tradition, not least the well-established cast led by Allan Stewart as the Dame, and Grant Stott playing the wicked villain.
Welcome to Pantoland featuring a Good Fairy, a Queen and an evil Witch, Carabosse, who appears stage left (sinister), to a cacophony of hisses and boos. "Shoosh, shoosh" she growls at the audience. Dressed in a spider web patterned gown, a bat-wing headdress and long black leather gloves, she has a preening, arrogant, regal air while relating a brief synopsis of the plot.  Queen May and Carabosse are, (apparently!), identical twins, who both gave birth to wee girls exactly 21 years ago.   As revenge for her non-queenly role, Carabosse has placed a curse on her niece, Princess Aurora so that she will soon prick her finger on a spinning wheel and die.  
In the Kingdom of Auchtereekie we are in classic fairy tale setting blended with modern pop culture and lifestyle. Queen May parades about in a range of crazy costumes, ('this is not a dress, it's an M&S dress'), buzzing with energy and silly stories as they prepare for Aurora's 21st birthday party - Carabosse is off to Cameron Toll to get her eyebrows done.  As always the local references - Hearts & Hibs, Craigmillar, Musselburgh, Fife - are greeted with howls of laughter from the audience.
With the devilish Carabosse as her mother, Princess Narcissa also has a wayward streak as a red haired, punkish, Goth but behind the bold fashion sense, she has a heart of gold. 
Like Feste in Twelfth Night, Muddles is the Court jester with cheeky, boyish charm, who is secretly in love with the sweet and gentle Aurora - but how could a Princess fancy him?  Andy Jordan is terrific in a sketch featuring a complex tongue twister about poisonous pythons, which gets longer and faster,  showing off such clarity of diction at rapid speed.  And just wait to you see him riding off into the night on his Vespa scooter. (Beware if you are sitting in the stalls).
Musical entertainment galore, especially the stunning voice of the sparkling Good Fairy, a marvellous mash up of numbers by Adele, Abba and a sassy rendition of Lizzo's "Good as Hell" - 'I do my hair toss, Check my nails'.  As a drag act villain, with deadpan monologues and satirical asides, this is Grant Stott's most brilliant, camp as Christmas, villain for many years. Allan Stewart has played Dame more often than any other actor, and his comedic timing, sharp improvisation and polished showmanship.  Together, their quick banter, with an occasional slip of the tongue, just adds to the hilarity along with witty ad libs.
The script weaves in and out of all these fun and games but never loses sight of the narrative of 'Sleeping Beauty' in which Aurora needs to be saved by a kiss from a handsome Prince in rom-com style.
It was in 1998 when Allan Stewart, Grant Stott and Andy Gray first appeared at the King's together, quickly launching their tight knit triumvirate. Andy Gray sadly passed away in January this year and a salute to King Andy  is most apt and touching moment for us all to remember this masterly panto star. His legacy continues as is his daughter Clare portrays Princess Narcissa, following in her father's dancing shoes at the King's Panto with panache.
The show races along briskly and slickly with lavish sets, superb design, lighting and visual effects with breathtaking, pyrotechnic magic. Simply wow!  This year the costumes are even more elaborate and spectacular such as Queen May's frock decorated with a full tea set, " Dolce and Cupgana!." 
There may not be live ponies on stage this year, but watch out for the Giant Bat!   
Show times:
27th November 2021 to 16th January, 2022
Tuesday to Saturday, 2pm & 7pm; Sunday, 1pm & 5pm
Ticket prices from £19 with offers, concessions and discounts.
Box Office: 0131 529 6000
https://www.capitaltheatres.com/whats-on/sleeping-beauty-2021
Recommendation for a pre or post theatre meal: The Neighbourhood kitchen bar and garden at the Bruntsfield Hotel. Superb gastropub good food, sharing plates, cocktails, wine and drink . www.thebruntsfield.co.uk/theneighbourhood