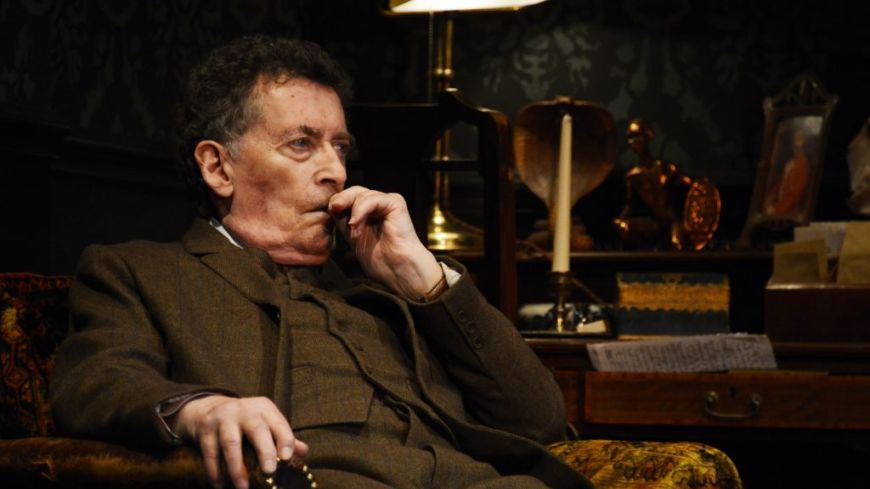 Company
Theatre Royal Bath and Kenny Wax
Production
Simon Reade (Playwright), David Grindley (Director), Jonathan Fensom (Designer), Jason Taylor (Lighting), Gregory Clarke (Sound), John Bulleid (Magic Consultant), Ginny Schiller (Casting Director), Alexander Lass (Assistant Director).
Performers
Robert Powell (Sherlock Holmes), Liz Goddard (Mary Watson), Mycroft Holmes (Roy Sampson), Timothy Kightley (Dr. Watson), Anna O'Grady (Miss Hudson/Rose), Lewis Collier (Detective Inspector Lewis), Tramp (Peter Brollow), Daniel Cech-Lucas, Peter Cadden, Peter Yapp, Louise Templeton (All Other Roles)
The next to jump onto the Conan Doyle bandwagon is successful stage adaptor, director, producer and former artistic director Simon Reade, with Sherlock Holmes: The Final Curtain. Despite the endless possibilities Arthur Conan Doyle's original tales leave open for adaptation, this one seems to close its curtains, take its seat and attempt to tick Sherlock shaped boxes.
During his retirement to the Sussex coast an arthritis laden, bee-keeping Sherlock Holmes discovers a corpse on his private beach and within moments his powers of deduction seem to have solved it. Unexpectedly an old friend - whom has been estranged for many years - Mrs. Mary Watson appears to talk of the supernatural apparitions of her son that she has witnessed in Baker Street.
Grounding the majority of this tale on Sir Conan Doyle's infatuation with spiritualism in his later years, Reade sends our favourite consulting detective back to his former lodgings to suss out the spooky situation.
Although Reade balances the plot on the not-so-coincidental timing of the body being found 13 years following the Reichenbach Falls, most of the other references, such as the drug addiction, his capabilities in the art of disguise and the appearance of his older brother Mycroft, add nothing to the thinning plot where real mystery appears scarce.
The cast do well to commit to the script and story, with many of them offering more than sufficient performances. Robert Powell's Sherlock wouldn't look out of place in the Holmesian catalogue, if only he had a better case to solve. Age appears to have hit Dr. Watson harder, with not much consideration for his back story, yet Timothy Kightley offers an endearing charm to this companion.
Liza Goddard's Mary is strong willed and delivered with such conviction you could almost buy into her outlandish backstory, that is until the final scene - the real mystery of this production. Her final monologue raises many questions about plot, purpose and a general "what is the point?".
Presented with a chance to see their favourite detective treading the boards, Holmes fans' would be better advised to revisit an old favourite and just buy their ice cream from the shop.
Running until 2nd June at King's Theatre Edinburgh