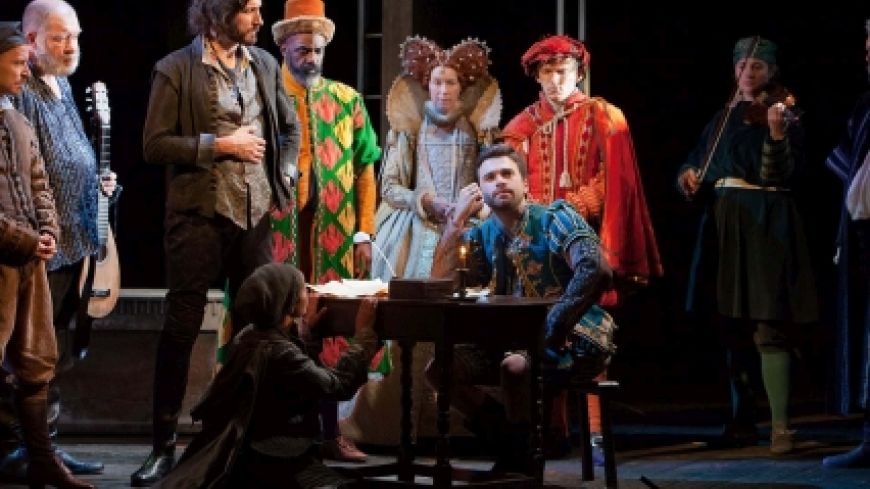 Company
Eleanor Lloyd Productions and Theatre Royal Bath Productions
Production
Mark Norman and Tom Stoppard (screenplay writers), Lee Hall (adapter), Phillip Breen (director), Max Jones (designer), Paddy Cunneen (composer), Tina MacHugh (lighting designer), Dyfan Jones (sound designer), Ayse Tashkiran (movement director), Renny Krupinski (fight director).
Performers
Piero Neil-Mee (William Shakespeare), Imogen Daines (Viola de Lesseps), Edmund Kingsley (Kit Marlowe), Bill Ward (Lord Wessex), Ian Hughes (Henslowe), Rowan Polonski (Ned Alleyn), Robert Edwards (Fennyman), Philip Labey (Sam), Geraldine Alexander (Queen Elizabeth/Nurse), Kevin N Golding (Frees/Wabash), Joshua Richards (Lambert/Ralph), Edward Harrison (Richard Burbage), Rosalind Steele (Wardrobe mistress/Kate/Musician), Jazmine Wilkinson (Webster), Jonathan Blaydon (Nol), Giles Taylor (Tilney/Sir Robert de Lesseps), Ashley Gayle (Barman/Adam/Catling), Toby Webster (Peter/Robin/Musician).
"Shall I compare... thee… to a something, something. Mummers' play?"
William Shakespeare is facing writer's block, the play a month over due and his quill broken, the well dry.
Things are not going well in a number of areas of his life and Henslowe the theatre owner, fighting off brutal creditors, is desperate for a new work - preferably something with comedy and a dog. "Romeo and Ethel, the Pirate's Daughter" shows promise if there were just a bit more of it than a title. He needs help and luckily master playwright Kit Marlowe is on hand to provide some inspiration.
Less promising are the auditions, a series of hopeless hams recite Marlowe's work until "Thomas Kent" provides an enlivening performance of Will's own work. In truth the young man is Viola, the daughter of socially aspiring merchant. She loves the theatre and poetry above all – "I will have poetry in my life. And adventure. And love. Love above all … unbiddable, ungovernable-like a riot in the heart, and nothing to be done, come, come … ruin or rapture. Love-like there has never been in a play." But it is not going to be acceptable to have a woman on the stage.
And so is set in motion the plot that will see the usual Shakespearean elements of star-crossed lovers, mistaken identities, cross-dressing, sword fights, adultery, ghosts and a play within a play.
In Viola young Will can have his actor and his muse, but she has been promised (or nearer sold off) to the aristocratic but impoverished Lord Wessex. Against a background of rivalries and intrigue Shakespeare will need to transform his dogged tale of pirates into something that will prove that a play can capture the true nature of love.
As Henslowe explains about the theatre business, "The natural condition is one of insurmountable obstacles on the road to imminent disaster." So how will it all turn out well in the end? "I don't know", he says, "it's a mystery".
The play, based on the multi-award winning 1988 film, cleverly reverse engineers Shakespeare's oeuvre so as to seem to inform his later work. Along the way it has great fun with the notion, throwing in lines from the plays (a little knowledge of the best-known works is all you will need) and plays with Marvolian and Oxfordian theories. It seems not above the saying "Shakespeare stole ideas too", with a balcony scene that is more Cyrano de Bergerac.
The cast do a great job in producing a fusion of romantic, comedic and tragic. The scenery, consisting of a central cut-away slice of Elizabethan playhouse on a revolve, allows the audience to see the backstage politics and intrigue. There are some delightful moments, the scene on the row-boat and the conclusion included, but there are also points that seem a little mechanical and cold.
It is welcome to see this play back on the stage; it's a fun reminder of how we fell in love with Shakespeare and how much he remains close to the heart of so much of theatre and language.
Show Times: 12th to 17th November 2018 at 7.30pm. Matinees 14th and 17th at 2.30pm.
Tickets:£19 to £32.50