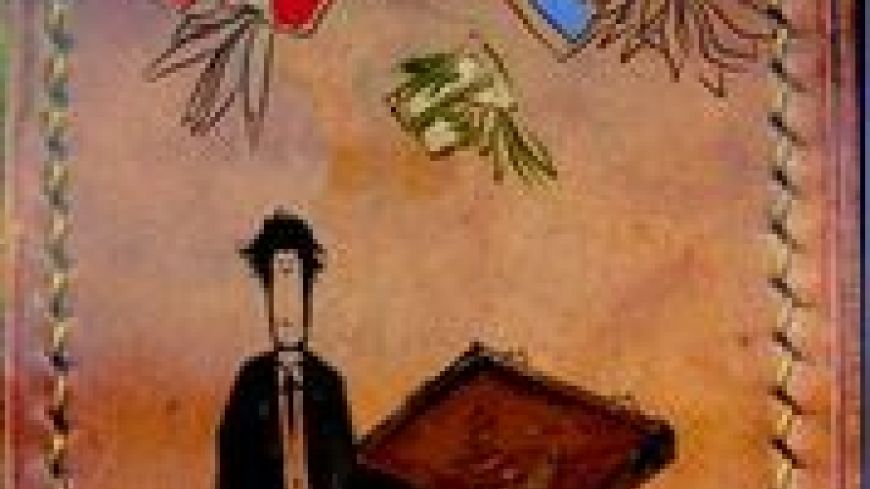 Company
An Ailie Cohen Puppet Maker / Unicorn production
Production
Lewis Hetherington (writer/director), Ailie Cohen (designer), Niroshini Thambar (music) Andrew Gannon (lighting design)
Performers
Rick Conte and Ailie Cohen (puppeteers and performers)
The snap of a valise's clasp can open the cosmos!
Under the soft orange glow of Edison light bulbs, that are a million miles from harsh crackling white neon, we meet Larry a conscientious office worker. Larry enjoys spending a busy, busy day filing and stamping; filing and stamping. He is so busy that he has no time to stop and enjoy even a cup of tea with his colleagues. That is till he notices a suitcase with a tie-on paper label bearing his name. This suitcase, by turns a boat and rocket, takes him to new horizons where he learns about the Quarks, a kind of hairy Packmen, who exist beyond time and look out for the Universe. "There's a rip in the fabric of the universe – a stitch in time is required."
This serene and beautiful creation from Hetherington and Cohen, who bring their respective skills of writing and designing and marry them to their joint puppeteering ones, is a pleasure to watch unfold. They imbue the gangly puppet Larry with immense vulnerability and his journey on a flying suitcase to life's simple pleasures warms the heart. His singular manner of speech with the constant prefix of 'habede hee, habede haa' is both comic and endearing.
The inventiveness in using tee shirts as scenery is quirky (or should that be quarky?) and effective and the transforming of the variety of cases and trunks to filing cabinets and space stations is a master class in creativity. The music from Niroshini Thambar accompanies the piece with apt but unobtrusive perfection, adding just the right atmosphere, not least with the old wireless radio signal sounds at the start.
This is a gentle philosophical piece of children's theatre with a message for all ages. Opening his labelled case has opened Larry's mind. A sweet lesson for us all.
The first ever co- production between one of Scotland's leading puppetry companies and the UK's leading theatre for young audiences opened on Saturday 15 March at Platform, Glasgow, and was followed by a two month Scottish tour prior to a London run at the Unicorn.
Age suitability: 5years
Venue: The Studio, Festival Theatre, Edinburgh *
Date/time: Thursday 17 April at 2pm
Box Office: 0131 529 6000 www.edtheatres.com
Venue: Brunton Theatre, Musselburgh *
Date/times: Saturday 19th April at 11am and 2pm
Box Office: 0131 665 2240 www.thebrunton.co.uk
Venue: Bowhill Theatre, Selkirk
Date/time: Sunday 20 April at 3pm
Box Office: 01750 22204 www.bowhillhouse.co.uk/theatre
Venue: Mill Theatre, Millbank Road, Thurso
Date/time: Monday 28 April at 2.30pm
Box Office: Caithness Horizons, The Old Town Hall, 01847 896508
Venue: Auldearn Primary School, Nairn
Date/time: Tuesday 29 April at 11am
Box Office: 01667 452118 (School's Performance)
Venue: Glenurqhart Public Hall, Drumnadrochit
Date/time: Wednesday 30 April at 11am
Box Office: 01456 450528 www.booklochness.com/event.php (School's Performance)
Venue: Raasay Community Hall, Raasay
Date/time: Thursday 1 May at 6.30pm
Box Office: Tickets on the door / 01478 660233
Venue: Scottish Storytelling Centre - part of Trad Fest
Date/time: Saturday 10 May at 1pm and 3.30pm
Box Office: 0131 556 9579 www.tracscotland.org
London: The production will be performing at the Unicorn September/October 2014