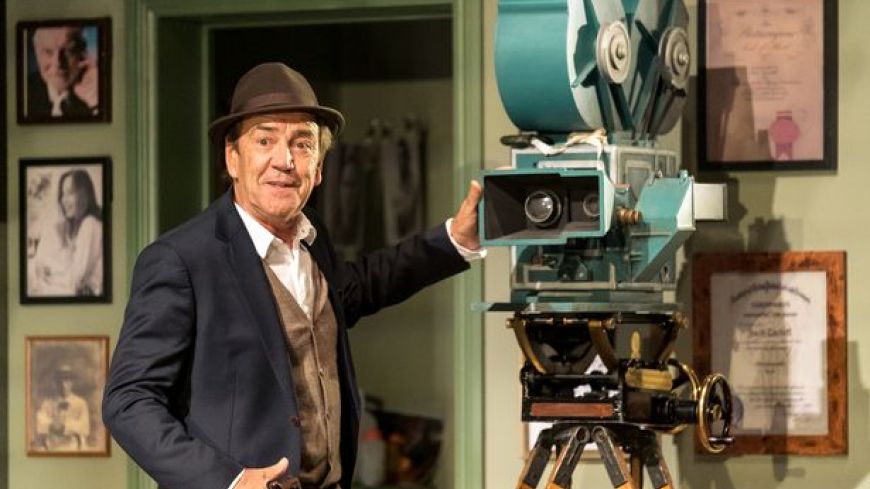 Company
Hampstead Theatre and Birmingham Repertory Theatre
Production
Terry Johnson (writer & director - with Victoria Blunt & Oliver Hemborough), Tim Shortall (design), Ben Ormerod (lighting), Ian William Galloway (video design), John Leonard (sound), Colin Towns (music)


Performers
Robert Lindsay (Jack Cardiff), Tara Fitzgerald (Nicola), Victoria Blunt (Lucy), Oliver Hemborough (Mason)
This is a biographical homage to the Oscar winning cinematographer, Jack Cardiff who died, aged 94, ten years ago. Renowned for such classics as A Matter of Life and Death,  African Queen, The Red Shoes, Black Narcissus, he was "the man who makes women look beautiful".
 At his Buckinghamshire home, Jack relaxing in retirement has an important task - to write his autobiography, gently pressurised by his son, Mason. The garage has been converted into a writer's study furnished with iconic glamour photographs – Sophia Loren, Audrey Hepburn, Marilyn Monroe et al. - director's chair, lights and his beloved camera. 
The problem is he's now suffering from Alzheimer's and Mason has employed a young girl, Lucy, through Care in the Community, (with more than a few cares herself). Despite the fact that she hates old films, she's keen to help Jack recall and record his precious memories of Hollywood life. 
Robert Lindsay is exemplary in capturing the complex personality of Jack Cardiff  - first seen as a grumpy, growling man, befuddled in a fog of forgetfulness, grasping in frustration to find particular words. But then his memory slips back a few decades - "I'm meant to be having lunch with John Huston!" – with moments of incisive intellect.  While Lucy and Mason indulge Jack to revisit the past, his wife Nicola discourages this nostalgic time travel, afraid of losing her husband, but unfortunately he is unsure who she is.
Surrounded by movie memorabilia, he's transported back to the film studio, proudly reminiscing the world of Vistarama, Superscope, Technicolour.  The prism in a Panavision camera recorded colour images by splitting light into three components, the key to filming in colour. Inspired by the Impressionists, Renoir, Vermeer, Van Gogh, who captured the essence of light, as a cameraman his role was an artist " who paints the movie".
Through quiet, intimate vignettes, we view his various relationships – Jack and Nicola, (feeling more and more unloved), Jack and Mason (strained, distant). A charming, close friendship develops between Jack and Lucy, who plays along with his film making fantasies, to bring a joyful smile to his face.
Stunning, surreal filmic flashbacks dramatise highlights from his cinematic memory; the ghostly figures of the vivacious Marilyn Monroe and serious "scribbler" Arthur Miller; on location in the Congo for The African Queen, Jack, Katherine, Bogart and Bacall, sipping martinis, amidst dangerous monkeys and mosquitos.  
The action flows seamlessly from the sunny present day to the shadows of the past in a dreamlike vision, often at a rather slow, ponderous pace.  The poetic language of Terry Johnson's script blends wry humour and emotional poignancy as we observe Jack Cardiff both in his prime and his sad demise -  "Life is temporary but film is for ever."   
With pin-sharp performances by all four actors, Prism paints an endearing snapshot of this passionate, pioneering movie-maker lost amongst the Stars, with theatrical style and the magical, moody atmosphere of the Big Screen.
Show times:
Monday 28 October – Saturday 2 November 2019
Tickets: £21.50 - £35.
www.capitaltheatres.com    0131 529 6000
 UK Tour
 Chichester Festival Theatre,  4 – 9 November
Guildford Yvonne Arnaud, 11 – 16 November
Cambridge Arts, 18 – 23 November
Malvern Festival Theatre, 25 – 20 November