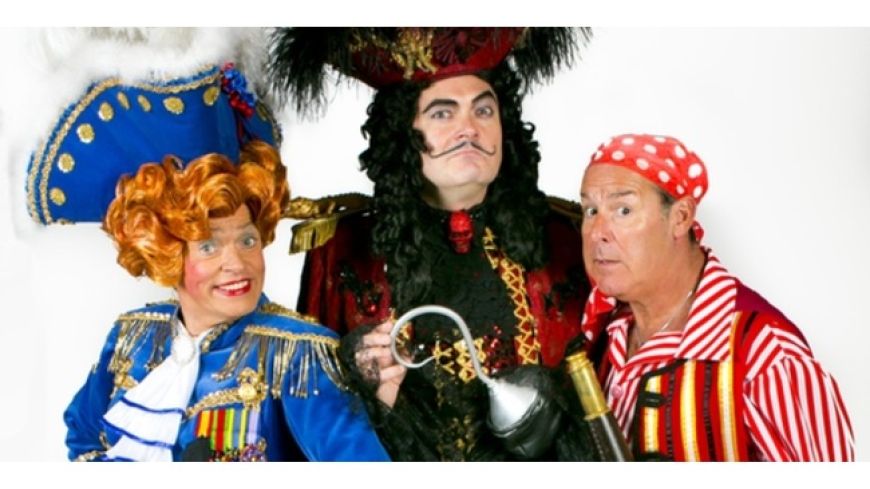 Company
Qdos Entertainment
Production
Michael Harrison and Allan Stewart (writers, based on play by J.M. Barrie), Ed Curtis (director), Gary Hind (musical director), Stillie Dee (choreographer).
Performers
Allan Stewart (Mrs Smee), Andy Gray (Mr Smee), Grant Stott (Mr Darling/Captain Hook), Daniel Healy (Peter Pan), Shona White (Tinkerbell), Maggie Lynne (Wendy), Miriam Elwell-Sutton (Mrs Darling/Tiger Lily). Ensemble of singers/dancers. Edinburgh Dance School.
The curtain has risen for the King's Theatre pantomime starring the irrespressible, stalwart trio of Allan Stewart, Grant Stott and Andy Gray in a wildly creative comedy version of Peter Pan.
First performed on 27 December 1904, J M Barrie's stage play remains a favourite fantasy tale which has survived numerous revivals, a Disney animation and adaptations such as David Greig's dark, Gothic version for the NTS.
The narrative is perfect Christmas-time entertainment featuring a large furry dog, fairies, pirates, red Indians, mermaids and a hungry crocodile in far away Neverland.
But a pantomime needs a Dame and her stooge. With cast re-invention, Mr Smee (Gray) and his elaborately-dressed wife (Stewart), are the madcap servants of the Darling family in their Georgian Toonhoose, Edinburgh.
In a neat brocade suit, Grant Stott is the brash and pompous Mr Darling, portraying a rich "Fred the Shred" baddy Banker, enticing loud boos from the audience.
The Nursery and a story at bedtime for Wendy, John and Michael before lights out to sleep. Tinkerbell's twinkling star flashes around the bedroom and Peter Pan flies gracefully through the open window. Magical!
With his boyish grin and acrobatic skills, Daniel Healy captures Peter's cocky, cheeky, free spirited character well. But why is Peter Pan not being played, as traditionally, by a girl?
And so the children's "Awfully big Adventure" begins as they fly off with Peter, "Second star to the right and straight on 'til morning. " Barrie's underlying theme contrasts the civilised life of the Darlings bound by morals and manners, to a castaway island of lost boys and freedom. Two worlds, reality and make-believe.
The Smees find their wings too and fly off in hot pursuit to the tropical paradise of Neverland. In charge is the glamorous, swashbuckling Captain Hook - Stotty is scary and in his dastardly element as the vicious, revenging Pirate king.
And so the story is told in pantomime style with farcical sketches, familiar gags, a scattering of scatalogical jokes, sword fights and a fantastic clock-ticking crocodile.
A hilarious double act from Gray and Stewart (but lacking the usual belly laughs), lovely singing from Maggie Lynne (Wendy) and Shona White as the feisty fairy, Tinkerbell.
Unfortunately by Act II the dramatic flow of the narrative is soon abandoned, speeding towards the finale as the Smees and Darling children return to Edinburgh. Strangely, they do not go home to the nursery, to their parents, Nana the dog and to reality. There is no full-circle resolution.
Peter is the boy who will never grow up, while Wendy has met her first young love. Their enchanting, innocent relationship is central to the story. So where are the thimbles and buttons they exchange as kisses? Where is the sweet, simple fairy tale romance?.
Peter Pan the Pantomime is bright and boisterous, with colourful costumes, song and dance, fun and laughter – but the essential emotional heart of Barrie's classic play has been sadly lost in translation.
Show times
30 November 2013 - 19 January, 2014
Tickets
£15 - £27