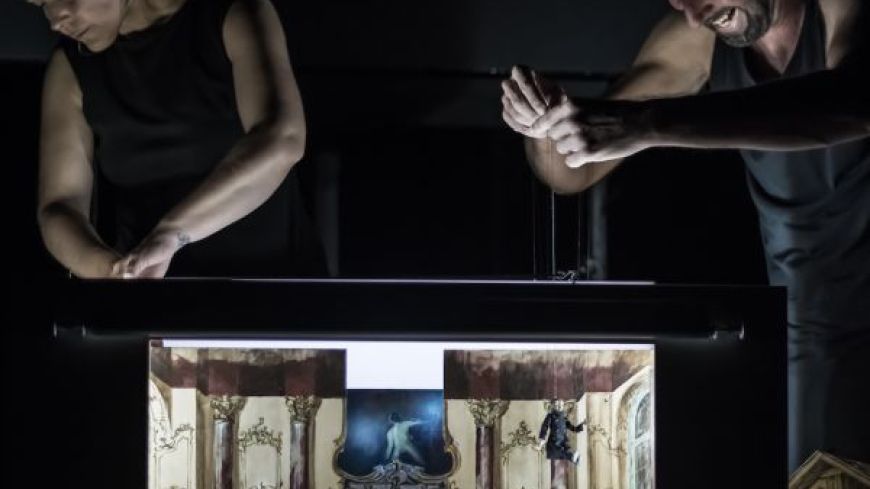 Company
Lutkovno Gledališče Ljubljana / Centre Dramatique National D'Alsace
Told through myriad art forms, namely marionettes, fable, live micro cinema and immersive, mobile physical theatre, Open The Owl tells Faust's cautionary story through a Slovenian folk tale, taking inspiration from Slovenian puppeteer Milan Klemenčič's miniature theatre version of the story. 
In creating this piece, the Ljublana Puppet Theatre (LPT) has been quite ambitious, too ambitious one might argue. A space that both encompasses miniatures, English surtitles communicated over the Slovenian script, two television screens and a large, moving stage is certainly impressive, but perhaps contains too many elements to achieve cohesion throughout all considering the audience of nearly 100 need to continuously shift around the room to capture bits of the performance.
The story tells of a man trapped inside of an owl; he descends upon a peasant and tempts him with wishes: one for every feather plucked from his body (knowing that once every feather is plucked he will be free from his avian prison. The peasant grows greedier with every feather plucked, descending into madness after his wishes bring him riches and fame but little happiness.
Ideally, this piece would have worked better if the audience were restricted to smaller numbers. With so many different elements and nuances to the piece, on top of multiple languages and allegory to digest, much of the story is lost in the craning of your neck or bumping into fellow audience members. 
There is fine artistry here, with the attention to detail on display with the puppetry and shrewd incorporation of the actors themselves into the miniature space. Though Slovenian is likely not the first language of most in attendance, the two actors convey rich meaning and emotion in the cadence of their text, the English surtitles adequately aiding comprehension along the way.
The finale of the piece ends poignantly with the resounding commentary on the dangers of trying to outwit the Devil. 
Ran Fri 07 Feb 2020   -  Sat 08 Feb 2020
21:00 (both days), 17:00 (8th Feb) (50m)
Age Group: 14+ (under 18s accompanied)