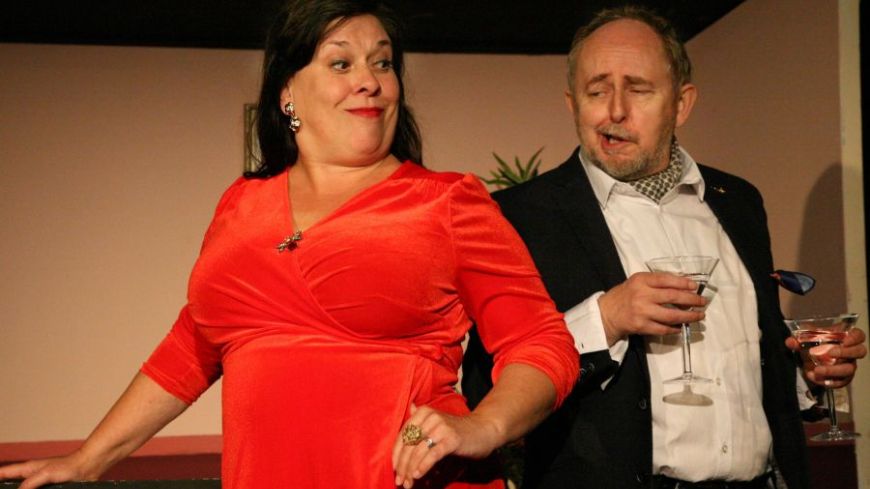 Company
A Play, A Pie and A Pint, Oran Mor
Production
Kim Millar (writer), April Chamberlain (director), Andy Cowan (sound design), Ross Kirkland & Chris Reilly (lighting design), Jonathan Scott & Gemma Patchett (designers)
Performers
Joyce Falconer (Jan), Callum Cuthbertson (Jack), David McGowan (Andy)
There is a real talent in writing a successful one act play to create realistic characters, set the scene, develop the plot line with a beginning, middle and end. 
The brilliant, award-winning concept of  "A Play, A Pie and a Pint," now in its 15th year, gives playwrights this challenge with a duration of just 50 minutes.  Kim Millar, a TV scriptwriter for such series as Coronation Street, Hollyoaks, Casualty and Doctors, has the perfect experience of episodic drama to write a short, tightly constructed play.
Running this week as part of the month long season of short lunchtime plays, "Number One Fan" is a laugh out loud comedy, reminiscent of the satirical humour of those vintage sketches of Scottish Variety Theatre.  
A domestic setting - kitchen breakfast bar, coffee mugs with holiday photograph of a happy couple on the wall. With a blast of "Girl on Fire," we meet a rather frazzled Jan, in dressing gown and fluffy slippers, chatting to her hubby, Andy, dressed for work.  Dabbing her face with a towel, she apologises for tossing and turning all night, burning up with the night sweats and now feeling "cream crackered." 
He is fed up, too, with her mood swings, as he reads a newspaper column about women over 40.  What man would want to be with an older woman when he can find an 18 or 25 year old with "firm young flesh"? is the gist of the article by Jack Bonham.  And Andy agrees with him!
A distraught Jan suddenly feels her age, catching a glimpse of herself in her compact mirror to see how the years have crept up on her – "I look like my Ma!" she shrieks.  "Instead of wisdom, it's all about wrinkles."   
It's time for revenge against the ideology of vain middle aged men who seem to prefer youth and beauty to experienced women like her.  In a fast speed costume, makeup and set change, worthy of a Cinderella Panto, Jan is transformed into a glam Lady in Red, now standing voluptuously in a bar. She is soon sipping a Dirty Martini with Jack the Journalist, "Shaken not shirred" he adds attempting a Sean-Bond chat up line.   
As the drama of her marital and menopausal breakdown evolves into a rather crazy farce, Joyce Falconer captures every nuance of Jan's bubbly, feisty personality amidst her chaotic, crumbling life.
Sharply drawn characterisations are made by Callum Cuthbertson and David McGown as the two vain middle aged men, with their smart suits, silk cravat and smooth talk.
Slickly directed with snappy music interludes, we are swept along on Jan's journey to seek her comeuppance. She might be nearly 50 but time to get her mojo back.!
Show times:
Tuesday 17 – Saturday 21 September, 2019, @ 1pm.  Friday 20 September, @ 7pm.
Tickets: £13.50:  Includes the play, a pie and a drink.
Age guidance: 14 +