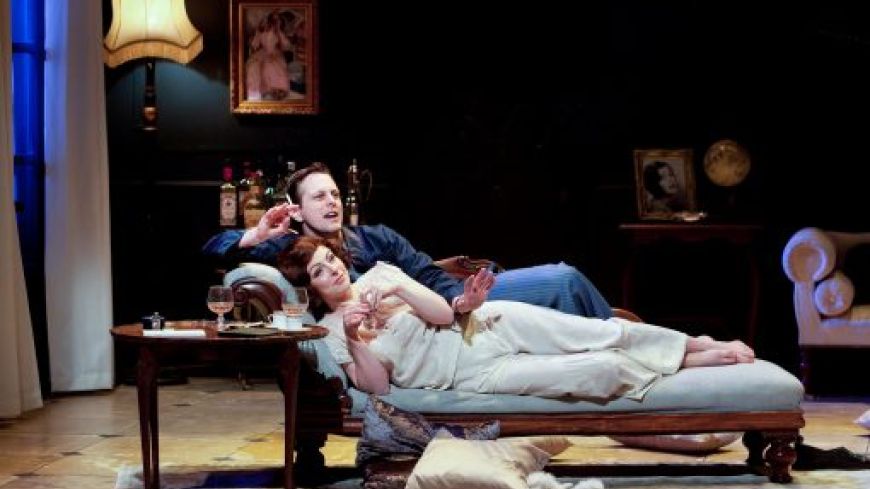 Company
London Classic Theatre
Production
Michael Cabot (director), Frankie Bradshaw (set and costume design), Andy Grange (lighting), John Fryer (fight director)
Performers
Helen Keeley (Amanda), Gareth Bennett-Ryan (Elyot), Olivia Beardsley (Sibyl), Paul Sandys (Victor), Rachael Holmes-Brown (Louise, the maid).
"Chance rules my life" comments Amanda to Victor, on the first night of their honeymoon. "It was chance meeting you. It was chance falling in love; it's chance that we're here .. everything that happens is chance."
The first act of Noel Coward's wickedly wild, wise and witty comedy, "Private Lives" is set in 1930 on the terrace of two adjoining honeymoon suites in a resort hotel, Deauville, France. Sibyl, young, bubbly, blonde, in a pink frilled frock, is a wide eyed, blushing bride, nervously uneasy in the company of the effortlessly elegant Elyot in his immaculate pin-stripe suit and spats: "You are very sweet" he endearingly remarks, as she giggles with girlish glee.
And so the action neatly shifts to and fro between each newly wed couple as they plan a romantic evening, looking out at the moonlit yachts in the bay. The theme of marriage is the focal point of their chit chat, but with subtle hints, expressed through tone of voice and stiffness in gesture – (Amanda dislikes Victor's rough tweed jacket) - there is a distinct lack of true love in the air.
All this is the gentle, yet revealing, prelude to the bombshell which is about to explode. Elyot, now attired in white tie and tuxedo, nonchalently lights a cigarette, while Amanda, next door, appears in a stunning, slinky, silk evening gown, showing off her slender figure. But she is shaken to the core as she realises it is her former husband sitting at the table, behind a row of flower pots. A chance encounter indeed:
Amanda: I'm on my honeymoon.
Elyot: How interesting, so am I.
Amanda: I can't help feeling that this is a little unfortunate.
Elyot: Are you happy?
Amanda: Perfectly. Are you?
Elyot: Ecstatically
With a volley of short, sharp, smart comments, what is apparent are the veiled feelings of jealousy as each has apparently found happiness in a new relationship. As the orchestra plays romantic tunes in the bar below, they begin to reminisce the good times together, laughing at the orchestra's limited repertoire and the potency of cheap music. Most unfortunately, the music is played at such a low volume, it's rather drowned out by the sound of sea. Coward wrote the song, "Some Day I'll Find you" for the play but whether it was playing softly, difficult to tell.
This is, nonetheless, an exquisite, intimate scene dramatising their fury and embarrassment of this farcical situation with an electrical charge of emotional tension. A tiny spark from their long lost love affair is still smouldering, so with ruthless disregard for their new spouses, they impulsively elope.
Act 2 is set in Amanda's apartment in Paris, authentically furnished with wood panelling, chaise longue, gramophone, drinks cabinet, telephone, photographs and art deco posters. Lounging about in silk pyjamas, they enjoy rekindled romantic bliss with moments of flaming, fiery passion.
Their duel of wits, glib quips, physical and verbal viciousness are slickly and skilfully choreographed like a few exhausting rounds of a boxing match. Rather than approaching the play as a frothy comedy and playing for laughs, this fresh interpretation cleverly delves deep below the glossy, glamorous veneer to highlight the savage side of their tempestuous love-hate affair.
As a high comedy of manners, it is a darkly satirical observation of marriage, New Women of the 1920s and relationships from Coward's point of view as an outsider, who lived and loved, detached from conventional social mores of the period: "very few people are completely normal, deep down in their private lives."
Suavely dressed with the perfect Coward profile, Gareth Bennett-Ryan captures the deliciously camp and caddish Elyot with a languid, louche manner while Helen Keeley is serene and stylish as the free spirited, vivacious Amanda.
Rather than the "two extra puppets to assist the plot," Sibyl and Victor are in fact vital roles to show their complete contrast of personality, social class and moral principles. They are also the comic stooges, with old fashioned clothes and sense of insecurity, both portrayed with delightful charm by Olivia Beardsley and Paul Sandys. In particular they shine in the hilarious breakfast scene when Victor tries to jolly the conversation along with a story about Cap Ferrat. Genius acting all round.
Directed with insightful vision by Michael Cabot, this is a beautifully designed, fast paced, highly polished and captivating production. Now 88 years on since the premiere, (King's Theatre, Edinburgh, 18 August 1930), "Private Lives" can still shock, inspire, entertain and amuse.
Sparkling, sassy, cool and classy, the bitingly sharp humour of this decadent drama is so intoxicating it hits the spot like an ice-cold Dirty Martini.
Show times:
The Brunton 13 - 14 February, 2018
Gaiety Theatre, Ayr 15 - 17 February, 2018
UK tour dates: London Classic Theatre