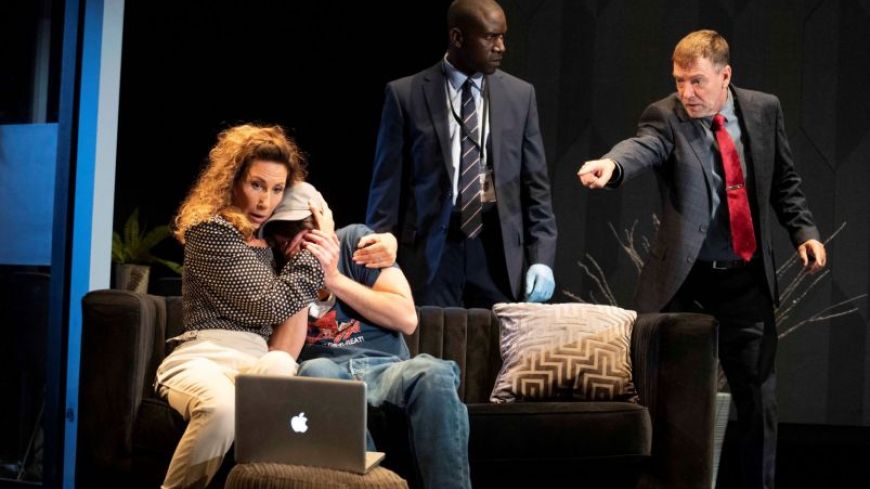 Company
Joshua Andrews and Peter James
Production
Peter James (novelist), Shaun McKenna (stage adaptation), Jonathan O'Boyle (director), Michael Holt (designer), Jason Taylor (lighting), Max Pappenheim (composer and sound designer)
Performers
Adam Woodyatt (Tom Bryce), Gaynor Faye (Kellie), Harry Long (DS Roy Grace), Ian Houghton (Jonas Kent), Leon Stewart (Glenn Branson), Gemma Stroyan (Bella May), Luke Ward-Wilkinson (Max), Mylo McDonald (Mick), Natalie Boakye (Janie)
Crime fiction has long been a literary genre which translates easily from page to screen and stage. Peter James is the author of 18 bestselling novels featuring the Brighton-based Detective, Roy Grace. The debut TV episode 'Dead Simple' was seen earlier this year by 8.7 million viewers and 'Looking Good Dead' is the fourth Grace novel to be adapted for the stage.
The drama opens in the cosy kitchen-diner of the Bryce family, complete with breakfast bar, sofa, dining table, cooker, sink and well stocked fridge, with a patio door leading to the garden. House proud Kellie is hoovering around her son Max who lounges lazily about, hiding behind earphones, mobile phone in hand. Her husband Tom arrives back from work after a tiring train journey, annoyed by a loud-mouthed man, so pours himself a stiff drink to calm down. He casually mentions that the guy left behind a USB stick so he picked it up and kept it.  'Why didn't you just go to lost property?', asks Kellie.
But Tom wanted the challenge to find out his identity and return it personally. Max is a typical teenager lost in his own wifi world, but he is IT literate so that he can help to crack the password.  Just like Pandora when curiosity led her to open the secret box which released all life's miseries, here Tom and Max inadvertently witness a vicious murder screened on the hacked website. Now their own identity could be revealed with dangerous consequences.   
With a quick scene change, the smartly dressed DS Grace is at work with his two Sergeants, Glenn Branson and Bella Moy,  who are all in jovial office chitchat mode when the call comes in "We have a body".  And so the investigation soon leads them to the door of the Bryce household.
The gripping narrative is very much based on well rounded, realistic characterisation as we learn more about the family, an older son who is on a gap year in South America and their financial problems. Adam Woodyatt portrays Tom's increasingly strained emotional despair, bickering with his spendthrift wife while Gaynor Faye plays the glamorous, happy-go-lucky Kellie, cooking expensive Wagyu beef for supper, but secretly drowns her sorrows with a bottle of vodka. Caught in the middle, Max likes to wind his Mum and Dad up, telling them about the programme he is watching on the Menéndez brothers - adding the punchline, "they plotted together to kill their parents!"
The focal point of the Bryce family home creates the ideal, tight knit, intimate domestic setting interspersed with speedy scene changes on the split level stage.  As much of the action is played out via laptop video footage, mobile and telephone calls, the slick use of sound effects, music and lighting is effectively designed. Particularly impressive performances too from Luke Ward-Wilkinson, Gemma Stroyan and Ian Houghton.
While the character of DS Roy Grace in the novels comes over as extremely genial and very much a romantic, Harry Long adopts such a serious expression throughout, with a cool, verging on icy, manner which does not reveal his warm personality.
While Peter James writes page turning thrillers, they also adapt brilliantly for the stage as the audience joins in the collective gasps of fear and moments of laughter as we try to unravel all the convoluted twists in this devious plot. After months of staying home with Netflix movies and TV series,  it's time to experience this atmospheric crime drama in the theatre. 
Showtimes:
Tuesday 5th to Saturday 9th October, 2021
Times: 7.30pm each night. Matinees, Wednesday & Saturday 2.30pm
Tickets:  from £23 (see discounts and concessions online)