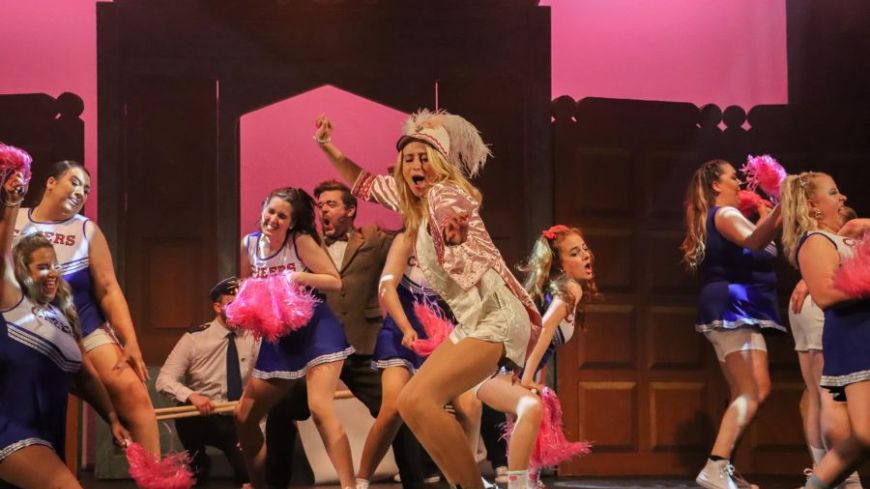 Company
Allegro in arrangement with Music Theatre International (Europe)
Production
Laurence O'Keefe (music and lyrics), Nell Benjamin (music and lyrics), Heather Hach (book), Linsey Ferguson (Allegro president), Emma Dawson (Allegro vice-president), Lee McHugh (treasurer), Stacey Scott (secretary), Amy King (committee member), Francesca Scappaticcio (committee member), Lucy Wands (committee member), Paris Afshar (committee member), Paul Inglis (committee member), Dominic Lewis (director), James McCutcheon (musical director), Felicity Halfpenny (choreographer)
Performers
Amy King (Enid Hoopes), Amy Totty (Salon Cashier & Team Malibu), Andrew Hally (Aaron Schultz & Team Harvard), Andrew Knox (Grand Master Chad & Kiki the Colourist), Anna Spence (Margot), Bethan Rookes (Saleswoman & Team Harvard), Cameron Kirby (Kyle), David Bartholomew (Elle's Dad & Carlos), Denise Treanor (Elle's Mom & Courtney), Elaine Carse (Team Harvard), Emma Dawson (Dee Dee - Greek Chorus & Chutney), Francesca Scappaticcio (Team Harvard), Gillian Reilly (Saleswoman & Team Malibu) Greg McCafferty-Thomson (Warner), Hannah Fleming (Stenographer & Team Malibu), Hannah Lorimer (Store Manager & Team Malibu), Imogen Wright (Team Malibu), Jo Heinemeier (Vivienne), Joe Purcell (Emmett), Jonny Farley (Winthrop & Team Harvard), Laura Green (Elle Woods), Louisa Everett (Brooke), Lyndsey McGhee (Summer - Greek Chorus & DA Joyce Riley), Monica Fowler (Serena), Nicola McDonagh (Candy - Greek Chorus), Parissa Afshar (Zahara & Team Malibu), Paul Inglis (Lowell & Dewey), Rachael Anderson (Paulette), Rachel Allison (Leilani - Greek Chorus), Rebecca Drever (Pilar), Rory McKeon (Gaelen - Greek Chorus), Ross Young (Prison Guard & Team Harvard), Russell Coid (Callahan), Ruth Harris (Whitney), Samantha Doig (Team Harvard), Stacey Scott (Cat Lady & Team Malibu), Stephanie Knowles (April - Greek Chorus), Stephanie Winton (Judge & Team Harvard), Stuart Williamson (Nikos & Team Harvard), Taylor Doig (Lake - Greek Chorus), Zoe Brookes (Kate - Greek Chorus), Faery (Bruiser), Archie (Rufus)
With slick dancing, high energy and a wow factor in charisma that only a strong community can drum up, Legally Blonde is a fun, feminist, feelgood romp through 'rom com' excellence.
Based on the hit 2001 film of the same name, this musical comedy sets its gaze on Elle Woods, a popular 'Delta Nu' California sorority girl who is on the cusp of having it all: a perfect grade point average in fashion merchandising, a great group of gal pals, a killer wardrobe and a picture perfect fiancé. Her rosy life gets upturned when, instead of proposing, her boyfriend dumps her to pursue a more "serious" life at Harvard Law where he is looking for "less of a Marilyn and more of a Jackie." With razor sharp determination, Elle charms her way into Harvard Law to win back her man, but undergoes a personal transformation that transcends dreams of wedding bells and sees her emerge, with new friends, mentors and self-won confidence helping her along the way, into a fierce lawyer in her own right. 
Our heroine, played by Laura Green, is plucky, sweet and friendly. Well-cast Green opts out of a scrappy, near-ditzy slant on the character made popular by Reese Witherspoon and brings forth a warmth and innocence in her Elle. 
Greg McCafferty-Thomson's Warner, bozo-boyfriend-to-Elle, is satisfyingly sleezy, with the right vocal timbre to pull off the role, while Joe Purcell as mentor-cum-beau Emmett is earnest and so likeable. Jo Heinemeier is especially impressive as Vivienne, considering she only had 8 weeks to step into the role - wow! The whole Allegro cast has the crowd in stitches; not one actor on stage is going through the motions - each has developed their own lovable character, creating scenescapes that bring this world to life from its sorority house to Harvard classrooms. 
Formed in 1977, Allegro is an amateur theatre group, and nothing amateur about the heart and talent on this stage, seen the strongest in Rachael Anderson as Paulette, the eccentric salon technician who has a soft spot for the Irish. Anderson is hysterical, lively, compelling and her performance would be as comfortable on the Church Hill Theatre stage as it would be in a West End venue. 
The only 'blood in the water' for this production is the sound design, which too often drowned out the lyrics and asides from the stellar cast.
Much like its main character, Legally Blonde is a smart and bubbly musical you shouldn't underestimate.