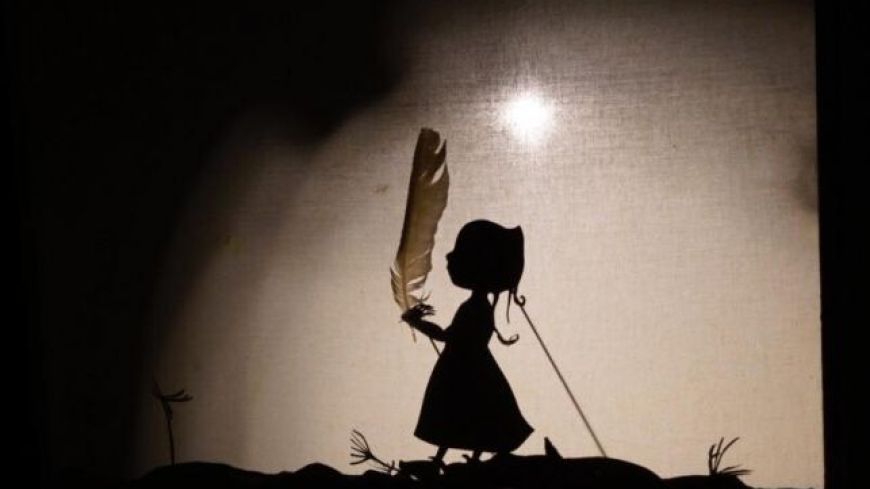 Production
Jemima Thewes (Sound Design, Maker)
With projections, table-top puppetry, micro theatre, live sound scapes and utterly beautiful a cappella melody, witnessing Journey feels as if an ethereal pop up book has come to life before your eyes.
Swallow the Sea has ventured outside of its traditional setting of caravan theatre to bring a slightly larger audience (this piece usually plays to a room of 6) a taste of their little wonders, with a story of a girl who finds herself in the midst of inexplicable discoveries and transformations.
Slightly eerie, yet soothing Journey sees in shadow a girl playing in a field, mauling the crops for sport until she finds a giant feather stuck in the soil. Plucking it from the ground, the girl is whisked away by the feather and is transported to a different world and back again, navigating an avian netherworld to the curious portal within its feathered depths. This piece is a simple fable, really, a short form allegory for a transformation from indifference to respect, even worship, of nature. She returns and straightens back her mauled crops, replanting her giant feather with a kiss.
It is the original composition which creator Jemima Thewes sings, echoes and billows throughout the room that makes this little wonder an enchantment. A bit of this Swahili love song translates to, "Poor me...I love you but I have fear", which does not exactly add metaphorically to the piece in context but is lovely in its melancholy all the same. Other than this recurring chant, the piece rests solely on its strong visual narrative and has no dialogue, and, while the metaphors and visuals are artiful, the narrative does beg a bit more arc.  
The soundscape is the clear highlight of the piece, and a better room could have been assigned to the company for this production, as applause from the neighbouring show snuffs out a bit of mystique. Despite the few missed opportunities, it is always a delight when companies like Swallow the Sea make imaginative new out of ordinary old. They have certainly made a little magic here in Journey, with little more than a tatty suitcase, canvas, light and paper.
Journey ran Sat 1 Feb 2020 as part of Manipulate Festival.
Age guidance 12+