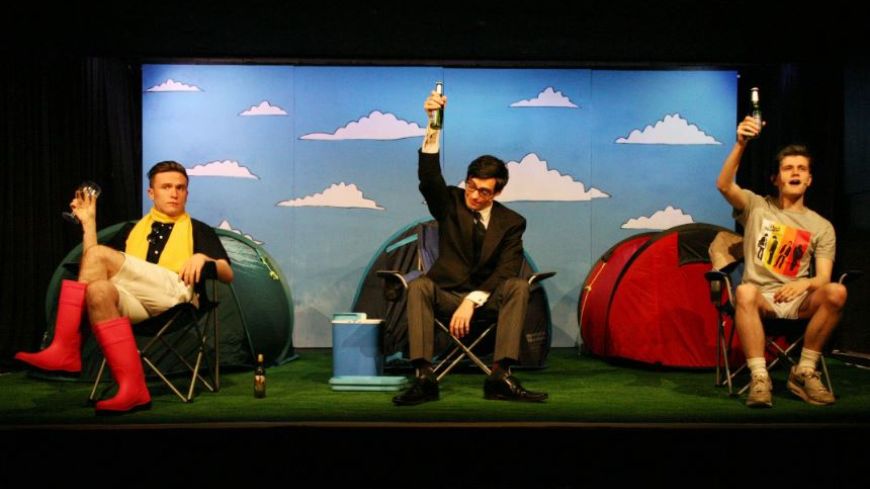 Company
A Play, A Pie and A Pint (Oran Mor)
Production
Martin McCardie (Writer), Stuart Davids (Director), Jonathan Scott & Gemma Patchett (Designers), Andy Cowan (Sound), Ross Kirkland & Chris Reilly (Lighting)
Performers
Michael McCardie (Jack), Joshua Haynes (Mavis), Saul Davidson (Charlie)
Celebrating 500 plays produced across 30 seasons since 'A Play, A Pie and A Pint' premiered in 2004, 2019 showcases some of the best loved plays from the back catalogue, interspersed with new works.
The first in the newest cycle, running a week behind its Glasgow home in Edinburgh's Traverse is 2011's 'From Paisley to Paolo', with Stuart Davids returning to direct Martin McCardie's all-male coming of age tale, partnering humour and pathos to explore identity, grief, sexuality, celebrity and friendship.
Jack (Michael McCardie) has just lost his Papa, the key figure in all his significant childhood and adolescent experiences, and his career highlight at 19 is leaflet advertising in a chicken suit. So when he wins tickets to see Paolo Nutini headline 'T in the Park', he succumbs to the temptation to tell his best pals, Mavis (Joshua Haynes) and Charlie (Saul Davidson), that his mate Paolo (born on the same day, in the same hospital and went to the same school) has invited them.
Pitching their presence amidst the sea of tents, each character drops nuggets of background information into the conversation as the trio begin to deconstruct some illusions, presumptions and lies about themselves and their friendship. While Jack is in denial about reality, it's unavoidable for Mavis who is "embalming bams" as an undertaker to save the family business and being stifled by an overbearing mother, whilst Charlie has let assumptions about his sex life fester.
McCreadie – though delivering many cracking one-liners – has little to say beyond exploring how we interpret success, true friends will accept you for who you are and you don't have to have fame or fortune to be valued. But this simple message can still seem alien in our modern selfie obsessed world, so it doesn't hurt to have a heart-warming reminder in this show, delivered by three fantastic performers who express a richness of character that allowed witty banter to be sprinkled with sentimentality and manage to remain on the right side of mawkish.
At Traverse Theatre until Saturday 14 September
Check out the full season here
© Lindsay Corr, September 2019