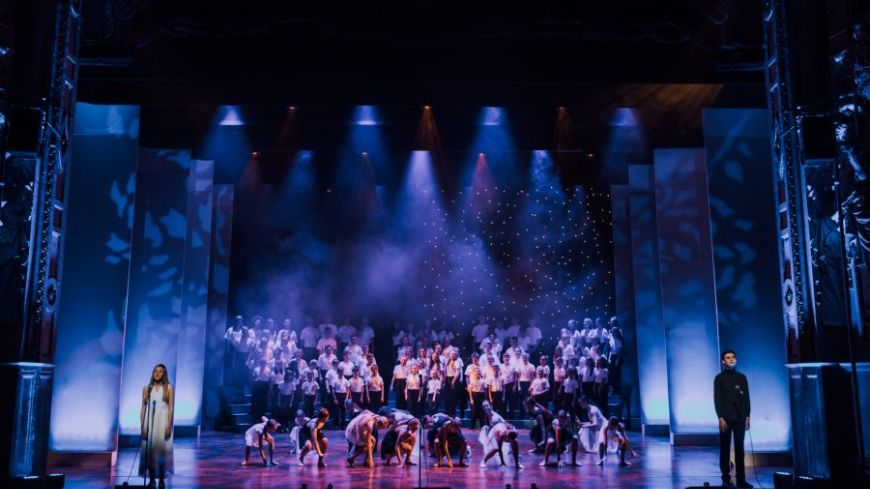 Company
Edinburgh Gang Show Productions Limited (EGSPL)
Production
Andy Johnston (Director); Andrew Thomson (Musical Director); Louise Williamson (Dance Director); Stephen Boyd & Louse Hunter (Assistant Directors); Ian Sutherland (Musical Supervisor & Lead Orchestrator; Jemma Crawford (Junior Gang Director & Assistant Dance Director); Caitlin Morgan (Junior Gang Musical Director); Martin Gray (Technical Director); Craig Robertson (Technical Manager); John Allan (Stage Manager); Murray Bald & Paul Inglis (Assistant Stage Managers); James Gow & Andy Johnston (Lighting Designers); Hayley Gordon & Apex Acoustics (Sound Design & Operation); Daniel Logan (Set Build Supervisor); Alan Hunter (Wardrobe Manager); Sandra Summers (Assistant Wardrobe Manager); Michelle Walker (Cast Administration Manager); Scott Walker & Robert Young (Marketing Managers); Andrew Williamson (Press Officer); Scott Walker (Souvenir Programme Editor & Social Media Manager); Alan Hunter (Regional Advisor, Gang Show); Dorothy McKinney (EGSPL, Elected Chair); Alastair Innes (EGSPL, Company Treasurer)
Performers
Ellie Roeling, Angus Hunter, Mackenzie Woolard, Ruben Binney, Freya Brown, Riana Browning, Ava McCaffer, Cameron Armstrong, Ailsa Maclean, Lewis Boyd, Alice Bailey, Ellie Cochrane, Emma Clarkson, Esme Prosser, Katie Kinstruck, Tatiania Honeywell, Kelsey Main, Jessica Lyall, Maria McDonald, Megan Maclean, Emily Johnstone &Amy Cammfield, Matthew Knowles, Millie Ironmide, Will Rennie (Soloists); Chloe Anderson, Vanessa Alexander, Olive Bailey, Abby Barker, Maia Baxter, Patryk Bess, Biana Binney, Ruben Binney, Lucy Booth, Lewis Boyd, Lara Brechin, Andrew Brown, Edward Brown, Hanna Bulloch, Caroline Chapman, Eleanor Cameron, Isla Cameron, Amy Canfield, Amber Canfield, Emma Clarkson, Hannah Damen, Charlotte Dickson, Connor Dickson, Nicole Drever, Leanna Drost, Suhana Das, Labhan Dinwoodie, Jamie Downes, Ruby Dunne, Matilda Finlay, Aiden French, Kirsty Funnell, Louize Gibson, Amelie Haag, Patrick Harvey, Tara Harvey, Conor Haughney, Emma Higgins, Ella Howell, Angus Hunter, EIna Hwang, Danni Ford, Callum French, Erin Jamieson, Isla Kelly, Charlotte Kershaw, Emiegh Kibble, En-Yi Lee, Kate Malcolm, Maisie Maclachlan, James Macdonald, Kaitlin MacDonald, Maria McDonald, Cameron McKenzie, Pippa McNeill, Will McNeill, Karlah Middlemass, Ruth Mole, Scott Morrison, Amelie Mulila, Christie Peden, Fraser Petrie, Jacob Petrie, Charlotte Read, Will Rennie, Jack Ross, Joseth Sherlock, Ava Smith, Aoife Stewart, Callum Southern, Alex Spence, Stewart Williamson, Ruth Shephard, Andrew Stevenson, Michael Stevenson, Emily Somerville, Katie Sharkey, Ellie Tullis, Rosalyn Varty, Chris Wallace, Hannah Watson, Eva Winnik, MacKenzie Woolard (Main Gang 2019)
Celebrating its 60th anniversary this year, the Edinburgh Gang Show is a long-standing tradition. Featuring over 250 young people from scouting and girl guiding, it comprises musical routines, sketch shows and a wealth of talent, with the sheer number and scale of routines that are packed into the show an incredible feat. It is full of charm and cheese with a hint of sheer energy.
The great thing about a show filled with children is that the performances are honest and raw – these are not perfect routines but they are truthfully performed. There are forgotten words, slow cues, jokes that fail and missed dance steps: we experience all their thoughts, fears and hopes with them – it is a rollercoaster we cannot help but go along with. All ages and abilities are featured, a great reminder that not only does talent need to learn to grow by nurturing and through opportunity, but also that the sheer joy of performing is paramount in a show like this. Mistakes happen but that is part of the fun of it – it is live and with more than 250 performers in total, it is a wonder that more does not go awry!
The strength of the show comes from its performers, the backstage team and the sheer variety of routines it produces. These range from simple songs with dance routines in the background, to very complicated, large cast co-cordinated routines. The variety helps to keep engagement and showcases the talents of a range of soloists as well as the groups. While all have their skills, Tatiana Honeywell's striking rendition of I Wanna Dance With Somebody is a showstopper, accompanied by a wonderful choreographed routine, and Ailsa McLean's Memory is not only powerful but also amusing. Matthew Knowles has a strong voice that lends itself very well to Lady Gaga's I'll Always Remember You This Way and there is a great deal of beauty in Falling Slowly, featuring Ava McCaffer and Cameron Armstrong, and a wonderful group of dancers.
Highlights include a very funny routine set in a wax works – you will not see Lewis Capaldi in the same light again –the Knights of the Round Table routine, the Haggis song, and some wonderful, individual performances with songs and dance. Not all the jokes work well, sometimes due to the timing, sometimes because some of the jokes are perhaps almost at retirement. It could be interesting to see routines paying more of an homage to the show's history on such an anniversary, Nonetheless, the finale, when it comes, is a wonderfully visual spectacle, completing a fun night out.
Times: Thursday 21 November – Saturday 23 November @ 7:00pm; matinee Saturday 23 November @ 2;15pm.
Tickets: £11.50-£18.50
Photo: Ryan Buchanan Photography
150mins