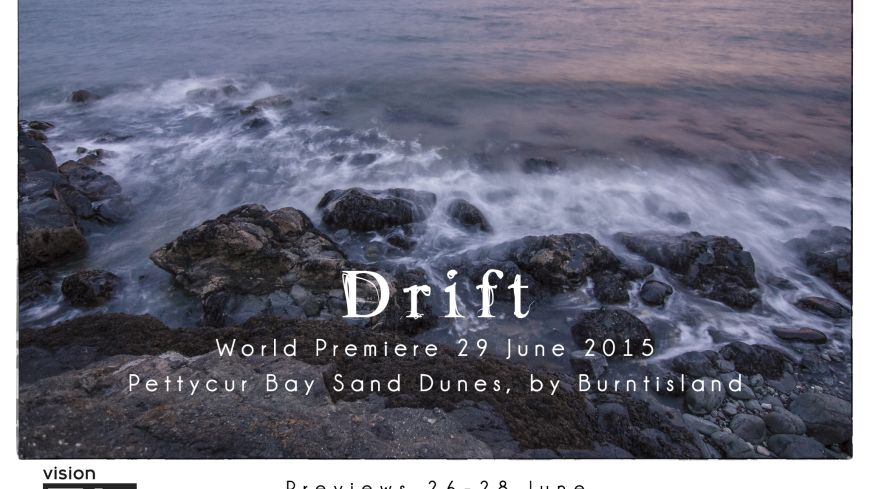 Company
Vision Mechanics and Nordland Visual Theatre, Stamsund
Production
Symon Macintyre (directed/producer), Judith Adams (librettist/writer) Eddie McGuire (composer) Gerda Stevenson (vocalist) Nik Paget-Yomlinson and Niroshini Thambar (soundscape artists), Kim Bergasel, Iain Halket, Tony Reason, Alice Wilsonand Adrian Barber (design),Stephen Moir (assistant designer, Ingrid Scholes (costumier), Charles Macintyre (construction)
Drift is the latest production from Edinburgh-based visual theatre company Vision Mechanics and is inspired by a remarkable woman's true story.
In January 1886, the coastal cutter Columbine left Grutness bound for Lerwick. Shortly after setting sail, the captain and crew were washed overboard following a storm. One passenger was left on board and was presumed lost at sea. That lone passenger was a 61 year old woman called Betty Mouat who after 9 days and 8 nights adrift at sea amazingly survived. She was discovered to astonishment when the Columbine grounded on Lepsoy in Norway. Betty Mouat returned to her life as a Shetland crofter to live another 30 years and is her story celebrated as part of Shetland folklore.
Stepping on to the beach at Pettycur Bay, what looks like a small tented village shimmers in to view. Crunching onwards on the shell strewn beach, the fluttering shapes take clearer form. Cordoned off amid the dunes, is a scattered group of structures. This is Drift . To experience, each participant is given a set of headphones and a big 'mermaid' waterproof poncho (a name given by a young wearer!). The poncho would of course be helpful in the event of rain, but it does more than that. It makes the wearer become part of the installation and makes them linked to the others taking part, who move around the structures at well-timed 5 minute intervals. Alone yet always part of things.
The recordings' sequence starts with a sea soundscape that is symbolic of Drift's fine fusion of reality and imagination. Sand, shells, seaweed and sea grasses are actually beneath your feet and the calm waters of the Forth are before your eyes yet the sound of another sea chills and whooshes in the ears.
The pattern of 9 pieces of sound followed by dialogue then song that represent Betty's 9 days at sea, guides the visitor through the minutely thought through creations that range from a hut with a cat's cradle of string ; an upturned boat filled with a miscellany of implements; a tiny chapel; a magical stained glass evocation of the Northern Lights; a rocking chair; a Captain's quarters with tiny clocks within giant clock and gorgeous miniscule stars; a reminder of Betty's craft skills with knitting weaving and crochet and an evocation of her shoemaker father, all mingled with rather lovely fluttering white gauze sails.
There is a strong sense of Alice in Wonderland amid an enduring smell of new sawn wood, that in itself speaks of looking forward, in this absorbing and interactive piece of theatre that is graced with the pool clear voice of Gerda Stevenson narrating in braw Shetlandic. Eddie McGuire's evocative and atmospheric music with Judith Adams' heart plucking libretto with lines like, "Greet na fir yir faider bairnie… suin aa will be fetchin hame" both round and complete this unique and affecting experience.
This is a beautiful and moving salt breeze creation that gives form and life to a poignant story of a woman whose faith, hope, sense of home and practicality sustained her as her life hung by a thread, allowing her to defy voices that told her to 'let go'. Vision Mechanics has produced a minutely detailed and emotive piece from their delightful paper boat flyer to the fascinating manifestation of dedicated research. This is a beach trip like no other.
Drift will tour to Norwegian beaches in summer 2016.
Admits one person every 5 minutes.
Not suitable for young children. Entry by donation. No pre-booking required
Pettycur Bay across from Burntisland, Fife, 26-29 June
Nairn Beach, near the harbour, 3-5 July
Skaw Beach (UK's most northerly beach), Unst, Shetland Isles, 10-13 July
St Cyrus Bay, near Arbroath, 23-26 July
Laig Bay, Island of Eigg, 6-9 August
The production is open from 7am to 12 noon and 2-9pm each day in each location apart from 13 July when it is open from 7am to 12 noon only.