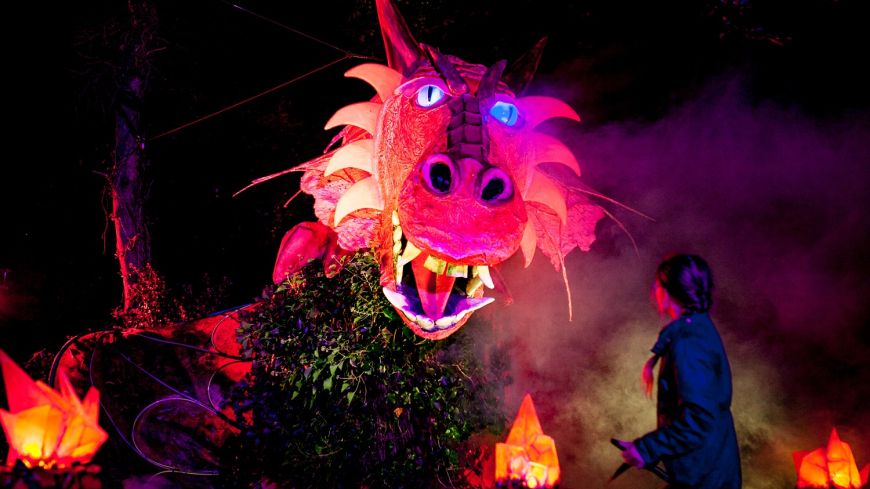 Production
Symon Macintyre (creator)
If you're up for some pre-Hallowe'en outdoor adventure Drummohr is the place to go. It may be a bit of a hike for city types with no access to a car, but the 26 bus gets you to the entry to Prestongrange Heritage Museum and after a short walk, the Dragon Bus will transport you and your party to a mysterious and entrancing world where dragons be.
Once booked at the welcoming Dragon Protection League HQ, where the pre- downloaded Dragon Matrix augmented reality app connects, you then set off to a place where there's good magic on one side and not so good on the other. A word to the wise, we found a tablet device to be more effective than a smartphone.
Darkness will have fallen by the time our adventure starts and with fairy lights, distant fires, and giant illuminated flowers as your guide, oh and the odd brightly glowing dragon, so it's best to keep to a steady pace as it can be muddy underfoot. Nae runnin! Dotted around the transformed grounds are friendly green cloaked pathfinders who keep eager Dragon hunters on the right path.
This brilliantly detailed and utterly magical installation by Vision Mechanics is geared to children with enquiring minds and their families as well as adults with a childlike curiosity. Be wary as you sidestep the Giant Spiders, Trolls, Red Witches and Goblins; be enthralled as you tiptoe through glitterball lit paths and eat fairy food then do some disco moves that are colour shadowed on the Big Hoose's wall, where if you're good enough you might just win a prize.
Vision Mechanics is a company that specialises in highly creative, minutely detailed site- specific performances that intrigue and beguile. Dragons of Drummohr is no exception in their long line of work and its interactive nature keeps wee dragon hunters alert and on their toes throughout.
So, download the Dragon Matrix, wrap up warm, get your wellies and a waterproof pith helmet on (if such a thing exists) and get hunting at Drumhor!
10th – 29th October (not Mondays) every 30 mins from 18.00 – 21.00