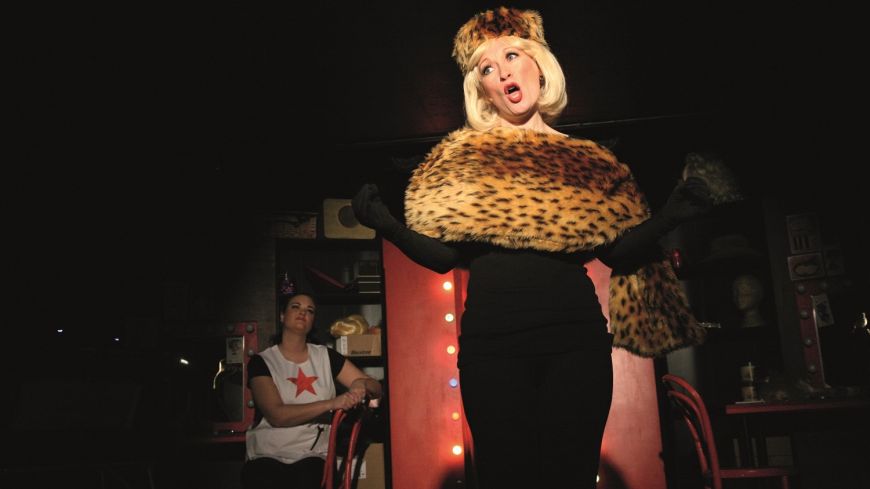 Company
Gilded Balloon In production with Òran Mór
Production
Morag Fullarton (write and director), Hilary Brooks (musical director)
Performers
Gail Watson, Jenny Hulse, Joanne McGuinness, Hilary Brooks
This winter season, Morag Fullarton's award-winning show Doris, Dolly and the Dressing Room Divas returns to Edinburgh. Five female stars of the past have their names up in lights of a new hue to headline again as part the Gilded Balloon's big Christmas programme.
Originally part of Òran Mór's ever popular A Play, A Pie and A Pint in Glasgow, and having had great success in the Fringe in 2015 and 2017, the show has grown legs (and pretty good dancing legs at that!) and now appears as a two part show lasting just under 2 hours.
In the coloured light- bulbed set of a messy dressing room, the three tabarded make- up girls click their heels and birl their way from Edinburgh to Hollywood and back again in phenomenal style. Against the light and bright atmosphere, they lift the curtain on the lives of five women who brought magic and happiness to others but whose own private lives hold more tragedy and drama than any movie.
This thoroughly entertaining show, that is lively, cheery, cheeky and sympathetically iconoclastic, removes the glamorous masks of the five women who changed their public lives to match their new stage names of Judy Garland, Liza Minnelli, Julie Andrews, Doris Day and Dolly Parton.
These are not a tribute acts but a show capturing of the spirits of these iconic women that's laced with immense humour and with the talent of the three actors whose harmonies are a pleasure to the ear. In a running joke, like an adult game of musical chairs, whoever sits on the seat on the centre of the stage gets to be the diva.
The cast has changed over the years and this time it is the multi- talented Jenny Hulse and Joanne McGuinness who join the dynamo that is Gail Watson who has been the constant in the show. In turn, Watson is a riotous Julie, a walking pompadour boudoir as Dolly and a pill box hatted Doris, shifting her voice and accent to perfection each time.
Clap and (when invited) sing along to favourite old songs all under the musical direction of Hilary Brooks who plays keyboard on stage.
This wonderful show guarantees to transport you to another world for a couple of hours, even if it's not to the Land of Oz!
21st November until 16th December 2018 at 19:30 (Matinees 17:00) age recommend 14+