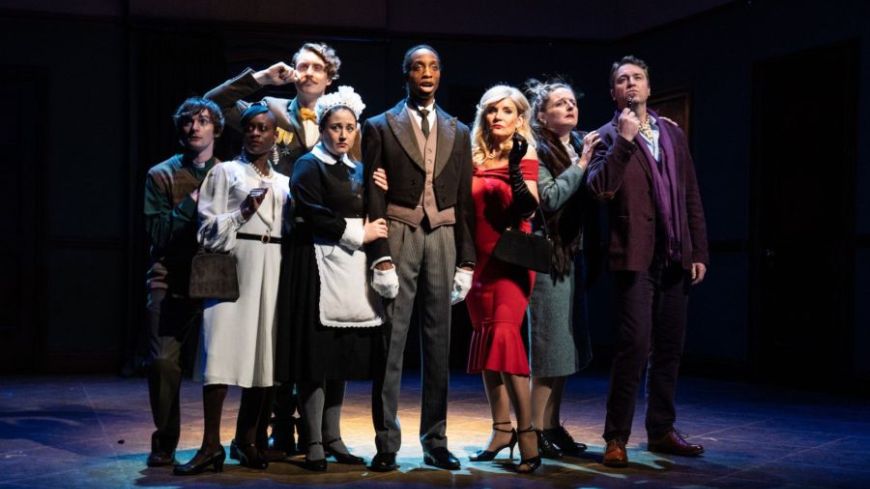 Company
Kilimanjaro Productions, Gabriel Creative Partners, The Araca Group, Lively McCabe Entertainment
Production
Sandy Rustin (writer), Jonathan Lynn (screenplay), Mark Bell (director), Warren Letton (lighting), David Farley (designer), Jon Fiber (sound), Anna Healey (movement), Kate Lyons (costumes),
Performers
Michelle Collins (Miss Scarlett), Daniel Casey (Professor Plum), Jean-Luc Worrell (Wadsworth), Laura Kirman (Yvette), Wesley Griffith (Col. Mustard), Etisyai Philip (Mrs White), Judith Amsenga (Mrs Peacock), Tom Babbage (Rev. Green), Harry Bradley (Ensemble), Meg Travers (Ensemble)
In 1944, Anthony Pratt, an English musician and crime enthusiast, invented a board game, "Murder!', to play at home with his family and in bomb shelters. After the war, Waddingtons purchased the idea, creating the trademark name 'Cluedo,' which was launched in 1949.
The narrative of the play, 'Cluedo'  is based on the American movie Clue, (1985), a comedy in which six guests are invited to dinner by a Mr. Boddy. Before the drama kicks off, a light music programme on the wireless features the songs, "Murder, he says" by Dinah Shore and Bing Crosby's "Pistol Packin' Mama" to evoke the popular culture of the 1940's.  A news report covers the Lynskey Tribunal in which a Government Minister, investigating corruption in the Board of Trade, has been involved in sleaze himself. To capture the period setting, reference is also made to Clement Attlee, well known for his virulent anti-Communism which parallels the McCarthyism covered in the "Clue" movie,  neatly swapping Washington for Westminster.
It's a dark night and with a piercing crack of thunder and flash of lightening, six guests arrive one by one at Boddy Manor, a remote country house near London. They have been told not to reveal their real names and given aliases: Mrs. Peacock, Miss Scarlet, Reverend Green, Professor Plum, Mrs. White and Colonel Mustard, easily identified by the colour of their clothes.
"What's all this about?" they ask Wadsworth the butler, only to be told "Ours is not to reason why . . . ours is but to do and die. The doors are locked, the windows barred, and the grounds patrolled by vicious dogs."
Over the conversation at dinner, the guests realise they have something in common, all associated with the Houses of Parliament and guilty of a misdemeanour, thus open to blackmail with a potential motive for murder.  (The plot is therefore similar to "And Then There Were None" by Agatha Christie, in which ten guests are invited to an island by a mysterious host.)  
Mr Boddy has left them each a gift of a murder weapon - a candlestick, dagger, revolver, rope, et al. Let the game begin! It soon becomes clear that there is a murderer in the house, but who?  Wadsworth takes command, dividing the guests into pairs to trust each other and uncover the evidence and find the killer.  But that trust is paper thin when you might be stabbed in the back at any second, or perhaps strangled by Mrs White in the Billiard Room.  
The economical stage set is brilliantly designed to match the layout of the Cluedo Mansion. The spacious Entrance Hall is surrounded by seven doors which open up to reveal the Lounge, Study, Library, Kitchen and Conservatory as well as hidden passageways for a speedy escape. The action is a frantic and frenetic whirlwind as the cast rush in and out of rooms, slamming doors, bumping into each other, tripping over clues as their personal weapons are accidentally dropped – and thus easily picked up by another guest. 
Meanwhile, as the storm rages outside, the body count steadily rises, and even the act of questioning is brought into question:
Colonel Mustard: Wadsworth, am I right in thinking there's nobody else in this house?
Wadsworth: Um... no.
Colonel Mustard: Then there is someone else in this house?
Wadsworth: Sorry, I said "no" meaning "yes."
Colonel Mustard: "No" meaning "yes?" Look, I want a straight answer, is there someone else, or isn't there, yes, or no?
Wadsworth: No.
Colonel Mustard: No there is, or no there isn't?
Wadsworth: Yes.
In between the amateur sleuthing, the script is peppered with silly jokes - "a husband should be like Kleenex  - soft, strong and disposable!."  
Unwitting topical comments too, such as when Reverend Green claims that he can't possibly be involved in corruption - he is a Conservative!.  Compared to the darkness of the McCarthy witch hunts (Arthur Miller's The Crucible was a metaphor), the current lying – sorry, the unintentional misleading of The House – seems minor and it loses its bite compared to the political scandals of post war Britain and USA.   
What we have is a sparkling comedy that rockets along between indiscretions and the more than occasional murder.  On finding that one character has been killed twice, Col. Mustard declares "It's what we call 'overkill'" -  and there is a little bit of that in this production when the comedic mood and voice levels becomes a tad hysterical.    
Slick and sleek performances throughout from the ensemble cast with star turns from Yvette, the maid, sipping a sneaky flute of champagne, and Michelle Collins as the glamorous Soho Escort, Miss Scarlett, to Daniel Casey as the dapper and rather pompous, Professor Plum. Centre stage is Jean-Luc Worrell as Wadsworth, the elegant, white-gloved Butler, with a mischievous gaze and a magician's sleight of hand.
As Director of the Olivier award-winning best new comedy, The Play That Goes Wrong, Mark Bell has proven his talent to amuse and craft a fast-paced, light-hearted classic farce.  It's also smoothly choreographed with the cast often waltzing around in a rhythmic line dance, and gathering in unison like a Greek Chorus.
Just like the board game, the six "players" suggest numerous accusations to name the murderer before all is revealed at the end.  As a mash up between 'The Mousetrap,' and 'Noises Off' with a touch of Wildean and Cowardly hilarity and wit, this is good, clean, old fashioned entertainment for all ages, say, 9 – 90.
Showtime:
10 – 14 May, 2022
Evenings @ 7.30pm + 2.30pm on Saturday 14
Prices: from £23. Concessions and student discounts.
https://www.capitaltheatres.com/whats-on/cluedo
On tour:  https://www.cluedostageplay.com/