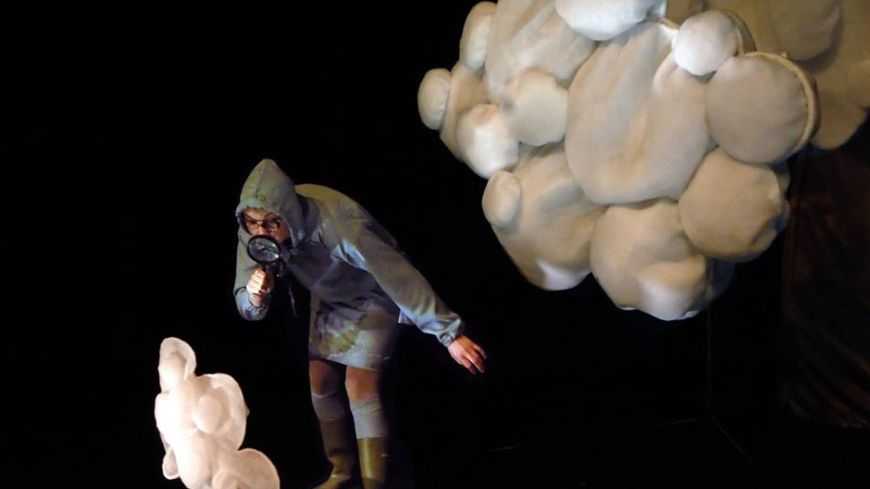 Company
Ailie Cohen Puppet Maker (Scotland)
Production
Ailie Cohen & Lewis Hetherington (writers and producers) ,Alasdair Satchel (director), Ailie Cohen(set and puppets), Niroshini Thambar & Nik Paget- Tomlinson (soundtrack), Matthew Easson (lighting design), Iain Craig (graphics)
Performers
Jen Edgar Ireland
Cloudia, the tweedy and anoraky cloud expert with her absent minded specs held together with a plaster, is already sitting on stage intently taking notes as the toddling audience takes its seats in the Church Hill Theatre Studio. Cloudia (Jen Edgar Ireland) is on a determined mission to find a Cloud Man, a shy elusive creature who lives in the clouds.
There is a gentle softness on the set, befitting the subject, with a shiny silver Cloud Mountain, a variety of cotton wool clouds and the soothing original atmospheric music from Niroshini Thambar and  Nik Paget- Tomlinson in the background.
Jen Edgar Ireland gives the resolute Cloudia a bright face with a smile that looks as though she knows something we don't.  And she does.  She is convinced with her scientific instruments and specimens and her amazing stretchy wire pencil that she will achieve her life-long ambition and find Cloud Man.
In her wee hut where she has set up camp on Cloud Mountain, she hordes the clues to Cloud Man's existence, like a tiny hat, a toty bag and the knowledge of teeny footprints. Just like in life, when her back is turned the curious Cloud Man finds her and starts exploring her territory.  As their two worlds meet and  the scientific experiment complete, Cloudia wants to keep her treasure but soon has her Eureka moment and realises that freedom matters more than holding and controlling ; that to love is to let go.
This is an utterly charming piece of children's theatre that has the capacity  to touch adults on an emotional level as well as delight the wee ones.  The subtle and quite magical puppetry performed by Ireland beautifully shows the humanity of odd wee figure of Cloud Man.  We are finally admitted to the soft  sparkly , glitter world of the Cloud Men where we witness them living their quiet lives and enjoying shortbread.
Drawn in to the happy ending, the audience eagerly participates in finding Cloud Man's missing tiny belongings. There is a delightfully produced souvenir pack with cards, a book and a poster available at the end of the show which should be a fantastic memory for the young theatre goers.
Run ended

Part of the Imaginate Festival