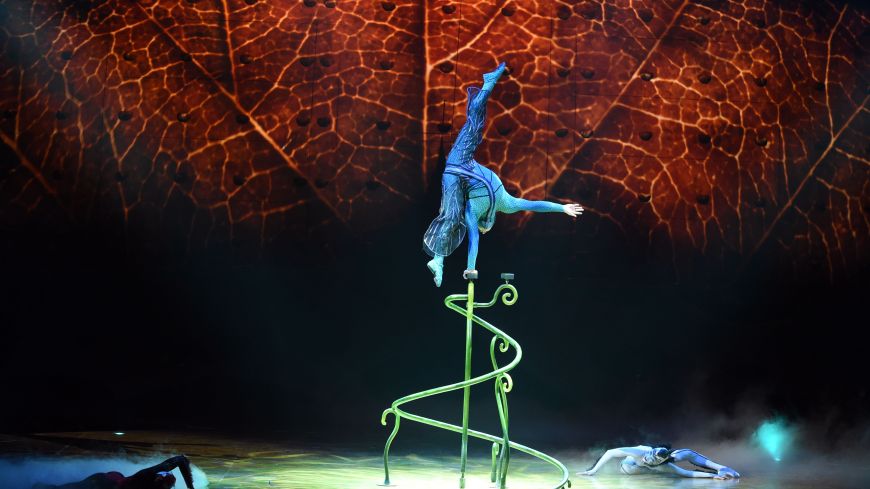 Production
Artistic Guides Guy Laliberté and Gilles Ste-Croix; Writer, Director and Choreographer Deborah Colker; Director of Creation Chantal Tremblay; Set and props Designer Gringo Cardia; Costume Designer Liz Vandal; Composer and Musical Director Berna Ceppas; Lighting Designer Éric Champoux; Sound Designer Jonathan Deans; Rigging and Acrobatic Equipment Designer Fred Gérard; Acrobatic Performance Designer Philippe Aubertin; Makeup Designer Julie Bégin
Still fresh from its UK debut in London this January, Quebec Company Cirque du Soleil hatch their production OVO in Glasgow's SSE Arena. As the audience gather around an enormous glowing egg on the stage (the meaning of 'Ovo' in Portuguese) enormous insects flit through the audience of sit preening on rocks so we may watch and admire their phenomenal costumes. Flashes of light and bursts of colour appear through the crowds every now and again – here a grasshopper with its huge bent legs and bright green skin, there a dark red spider climbs a pole and begins to swing herself over the audience.
One thing Cirque Du Soleil always do is create spectacle. As soon as the show starts and the dim, empty atmosphere of the Hydro is transformed with light and sound, the audience finds themselves in an insect colony bursting at the seams with colour and music and an astonishing array of clicks and squeaks and rattles that truly sound as if the insects they portray have been enlarged to human size.
Across the backdrop plays a series of moving images – leaves, earth, twigs – as the performers fill in the leaving creatures before them. There is an exciting variety in what the creative imagination draws from their insect theme, each act with their own defining creature. There is a troupe of ants who juggle fruit with their feet in a fantastic display of coordination, before going further and beginning to juggle each other. A butterfly winds herself round a new green shoot and balances on her hands to spread her delicate, shimmering wings. A flutter of moths take flight in an incredible feat of balance and strength, as partners swing them through the air and they spin and tumble before catching their fellows again at the last second in an exciting hand to hand trapeze act. Brightly coloured fleas catapult each other into the heights and build towers of themselves; a single, white spider spins and contorts in a web of slow, breath-taking beauty.
There are skills on show here other than insect physicality; a diablo juggler wows his audience with dexterity and flair; a tightrope act baits the breath of every member of the audience. Live music and singing brings the carnival firmly into the immediate, with the superb skills of their musicians. Clowning is also incorporated, with a rather haphazard bluebottle and his rival vying to win the affections of a ladybug. The clowning is funny and the clowns skilled, but the premise outdated and a little grating. Unfortunately this trio appears more often than is welcome, and detracts from the overall pace and excitement of the spectacle.
Cirque Du Soleil are one of, if not the most famous circus troupes in the world, and there is no denying their skills. However the title of the show, OVO (the Portuguese word for 'egg') is never really addressed. One brief, stunning moment shows an aerial artist in a cocoon, straining and working until she is free and finding wings from the silks around her – this seems thematically relevant, were the rest of the performance does not quite connect the dots.
The use of all the set pieces presents a stunning visual, most notably the final section where performers crawl up and down the backdrop like real insects on a wall and the crickets leap up and down it on trampolines, twirling in the most impressive promenade tumbling on the ground below.
It is a very busy show, a riot of colour and sound and movement, and it's easy to get caught watching something that is not the most impressive thing happening on stage. This can sometimes make it seem crowded, but then every person will watch different things and come away with a different experience.
The skills and performance are stunning, and they have succeeded in creating a microcosm of their own prowess. It would be nice to see what they are trying to do by calling it OVO; it seems like a vision or concept whose potential has been lost in favour of the wow factor. It is a wonderful show grown from an idea that only hatched at the very end.
SSE Hydro, 8pm, 5th – 9th September
Tickets £51.10-£73.80