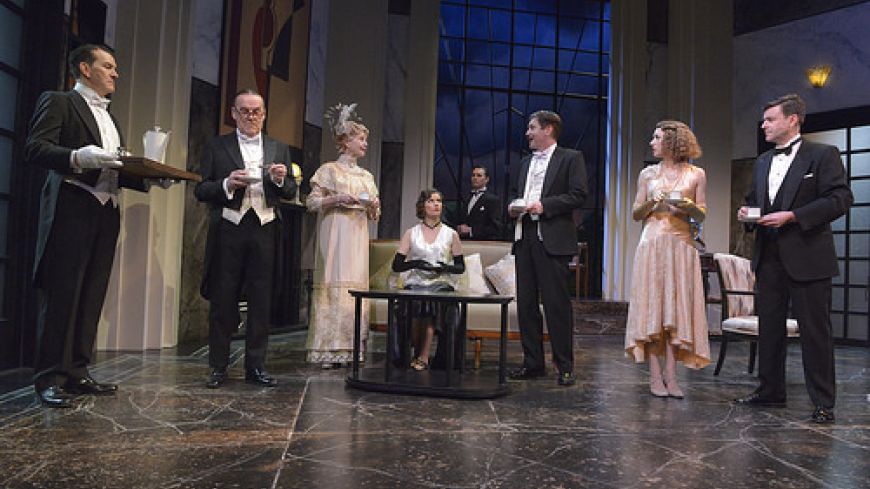 Company
Agatha Christie Theatre Company
Production
Agatha Christie (writer), Joe Harmston (director), Bill Kenright (producer), Simon Scullion (designer), Nikki Bird (costumes), Matthew Bugg (music and sound), Douglas Kuhrt (lighting)
Performers
Robert Powell (Poirot), Captain Hastings (Robin McCallum), Liza Goddard (Caroline), Ric Recate (Sir Claud), Olivia Mace (Lucis), Ben Nealon (Richard), Felicity Houlbrooke (Barbara), Mark Jackson (Edward), Gary Mavers (Dr. Carelli), John Ashby (Dr Graham), Eric Carte (Inspector Japp), Kieran Moloney (Constable Johnson)
The premiere of Black Coffee in December 1930 was reviewed in The Times:
"Miss Agatha Christie is a competent craftsman, and her play, which is methodically planned and well carried out and played, agreeably entertains."
Hercule Poirot appeared in Christie's first novel, "The Mysterious Affair at Styles", (1920), accompanied by his friend, Hastings, their partnership soon developing into a Holmes and Watson detective duo.
Nearly a decade later, disappointed with the portrayal of Poirot in film and stage adaptations of her novels, she decided to write her own play to preserve the accurate characterisation of her Belgian Detective.
The King's Theatre was packed out for this revival of Black Coffee, performed by the exemplary Agatha Christie Theatre Company.
The curtain rises on a magnificent Art Deco drawing room, complete with marble flooring, wood panelling, bookshelves, French windows overlooking the garden and doors leading to study, hall and dining room.
Unfortunately, while the programme gives all the details of the cast in order of appearance (so that we can work out who's who), there's curiously no information on the play's setting, period and time-frame.
Research into the play explains it all.
1929. The scene is the Library at Abbot's Cleve, Sir Claud Amory's house, about 25 miles from London. ACT I - 8.30pm. ACT II - The following morning. ACT III - Fifteen minutes later.
The classic country house, as in the game of Cluedo, the perfect setting for murder, as we hear the signature tune to the popular ITV series, Poirot.
Sir Claud Amory, a famous Physicist, has discovered that his scientific formula for a new type of Atomic explosive has been stolen from his study. He challenges members of his family and house guests to return the document, anonymously.
First, coffee is served after dinner - but instead of sugar or cream added to one cup, it's a lethal dose of Hyosine Hydrobromide.
Agatha studied at a pharmacy during WWI, learning all about pills, potions and poisons – "It was while working in the dispensary that I first conceived the idea of writing a detective story," she wrote in her Autobiography.
A murder in the library has been committed and Hercule Poirot and Captain Hastings arrive to investigate. We, the audience, observe carefully to try to identify the guilty party amidst a household of suspicious characters.
Who is the mysterious Dr. Carelli who has arrived from Italy? Why does Lucia behave in an underhand manner, removing crucial evidence from the crime scene?
The entire cast is absolutely superb: Ric Recate as the enigmatic Sir Claud, and Liza Goddard as his proud, glamorous sister, Caroline, with a bitter dislike of foreigners. Felicity Houldbrooke plays the bright and bubbly Barbara, flirting with the awkwardly shy Hastings – portrayed with upper class military poise by Robin McCallum.
And so to Monsieur Poirot himself. Over twenty five years, David Suchet perfected the serious intellect and physical manner of the rotund, egg-headed detective in the TV series.
Here, Robert Powell dons the iconic moustache and padding around the stomach, to bring his own fresh, precise, light-hearted and humorous wit to the role. He has great presence, prowling around like a bear, watching, waiting, listening - to seek out the truth.
At the start of Act II, he sits centre stage - in the same chair where the murder victim was found having sipped the cup of poisoned coffee.
While Hercule cajoles and teases Hastings, who is as usual slow to pick up clues, there's an endearing friendship under the surface. And then Poirot has to deal with the arrival of Inspector Japp – dressed in his usual fedora hat and raincoat - with his plodding Scotland Yard approach to solving a murder.
The neatly constructed plot, half a dozen suspects, a shoal of red herrings, menacing music, gorgeous vintage costumes, realistic setting and fine characterisation, all adds up to a thrilling and entertaining drama.
After the 1930 premiere, the Observer commented that it would appeal to " those playgoers who are eternally excited by a corpse in the library and cross-examination of the family."
This 2014 touring production will, once again, satisfy the enduring appeal of a classic, timeless Country House murder mystery to playgoers of all ages.
As I left the theatre, a young girl aged about nine, told me that she absolutely loved the play, with music from her favourite TV series, and that she especially liked the charming Captain Hastings!
Show times
24 – 29 March, 2014.
Ticket prices
£14.50 - £30.
And highly recommended, the Agatha Christie festival in Torquay.