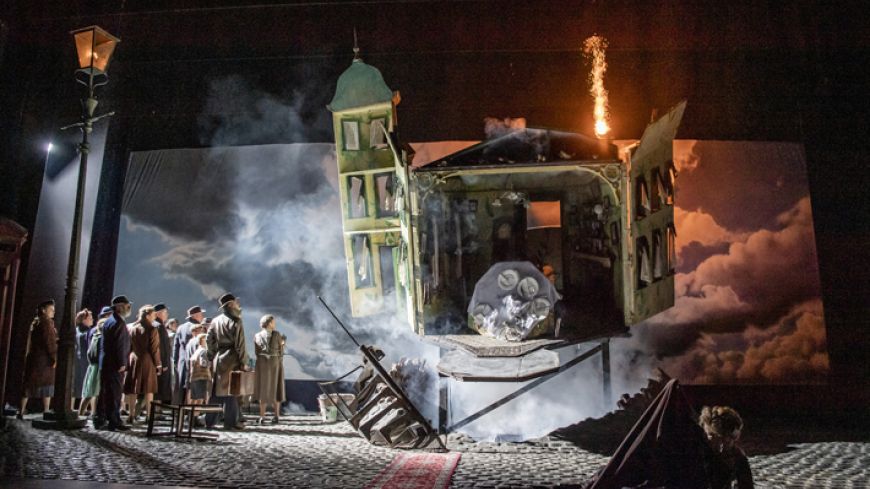 Production
Stephen Daldry (Director), Julian Webber (Associate Director), Ian MacNeil (Designer), Rick Fisher (Lighting), Stephen Warbeck (Music), Sebastian Frost (Sound), Terry King (Fight Director), Iain Gillie (Executive Producer)
Performers
Liam Brennan (Inspector Goole), Christine Kavanagh (Mrs Birling), Jeffrey Harmer (Mr Birling), Alasdair Buchan (Gerald Croft), Chloe Orrock (Sheila Birling), Ryan Saunders (Eric Birling), Linda Beckett (Edna), Raffi Phillips (Younger Boy), Zahra Shafique (Girl), Jack Heggie (Older Boy), Isla Campbell, Sarah Howley, Rory Kelly, Joe Lawrence, Louise Martin, John Simpson, James Stewart, Meghan Wallace (Supernumeraries)
J.B. Priestley's morality play is a scathing criticism of Victorian and Edwardian societies from a socialist perspective, highlighting that society as a whole should share responsibility and collectively examine our conscience.
Stephen Daldry's 1992 production – on the back of 13 years of Thatcherism – rejuvenated the play as more than a genre defining period drama by finding the contemporary relevance of its central message of unrestrained capitalism, merging the 1912 setting of the action with its 1945 composition to radically reshape the thriller, winning many accolades and plaudits from the public who flocked to see it.
A parable as much as a play, showcased with a highly stylised delivery, Daldry uses every theatrical convention to shun realism. This creates as dynamic a performance as possible from one-dimensional characters and inevitable static, as the plot moves forward through revelations rather than actions, leading to some moments of histrionics and contrived physicality where the melodrama is at risk of becoming laughable.
The story centres on the privileged Birling family who are celebrating their daughter's engagement to a rival magnate's son when a detached yet determined Inspector Goole interrupts their party. Announcing that a young woman has committed suicide, an inquiry ensues as each family member is systematically questioned and implicated.
Set designer Ian McNeill's claustrophobic and precariously balanced doll house is often credited as the true star of this production – at first cocooning the pompous, selfish and bloated Birling's in their capitalist constraints, then casting its walls open under scrutiny to then shudder and collapse into the gutter amidst increasing revelations.
What resonates strongest is the play's progressive social themes, with the ever-present working-class masses watching the unravelling family, ensuring the production does not shy away from moralising its critique of inequality, highlighted as Goole breaks the fourth wall with a speech condemning a society that has lost its heart, brilliantly delivered by Liam Brennan who reprises the role from 2016.
It's a stark reminder that greed and corruption still appeal, equality is still very far away from reality and the fact that history seems doomed to continually repeat its failings. Not the most comfortable night at the theatre, but the Hitchcockian presentation ensures laughs and entertainment amidst the message.  
Until Sat 12 October, then touring - www.aninspectorcalls.com
© Lindsay Corr, October 2019