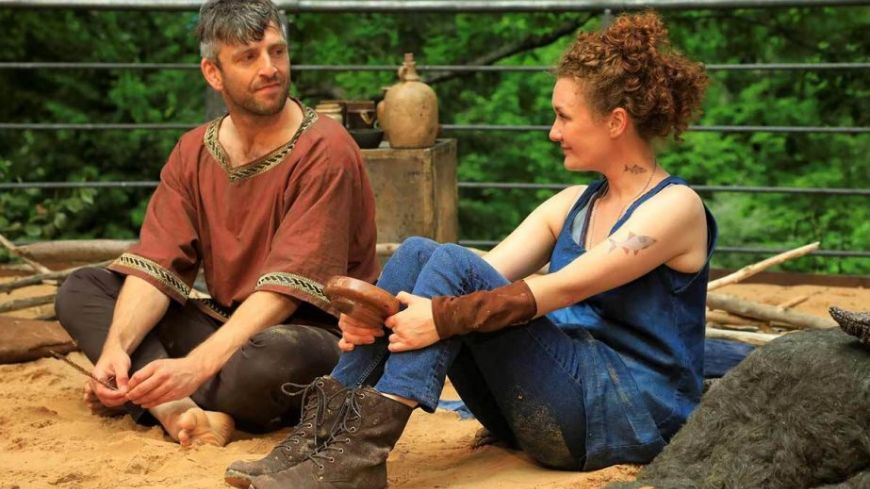 Company
Pitlochry Festival Theatre
Production
Elizabeth Newman (Director, Designer), Jeanine Byrne (Lighting Designer), Ben Occhipinti (Sound / Music Designer)
Performers
Kirsty Stuart (Eithne), Nicholas Karimi (Lucius)
Nestled into the hills of Pitlochry is the airy, outdoor haven of The Amphitheatre at Pitlochry Festival Theatre which could not be more perfectly suited to David Greig's two-hander Adventures with the Painted People. Set in Caledonia of 2000 years ago, this is a captivating, cross-cultural love story about language, nature and modernity, originally set for its stage premiere in July 2020 but now, in 2021, welcomes long-awaiting audiences back to live theatre, most for the first time in at least fifteen months.
 
Lucius, a captive Roman official, and Eithne, a strong and plucky Pictish witch, dance between captor and captive, as he, though bound in rope, agrees to teach her proper Latin in preparation for her meeting to convince the Roman governor to call off his invasion of her tribe, the "salmon people". Adorned with fish tattoos, leather stays and curly hair, she is the fish to Lucius' eagle; the magic to his logic, the winding river to his paved Roman roads. She represents a culture that prefers the "carrying stream" method of history, told through stories and songs, while Lucius models a history written on papyrus, created through taxation, order and deadlines. As their journey unfolds, each takes on a bit of the other, melding souls through dreams of ghosts and glory.
 
The nuanced performances of Kirsty Stuart (The Duchess [of Malfi], Royal Lyceum Edinburgh, Call the Midwife, BBC) as Eithne and Nicholas Karimi (Macbeth, National Theatre; The Kite Runner, Nottingham Playhouse and West End) as Lucius, under the direction of Elizabeth Newman, are masterful, and the chemistry and poetry they exude are palpable.
 
This production of Adventures with the Painted People is strongly elemental and sensory; the constant rushing of the River Tummel below along with the chirping of the birds, the rustling of the wind through the trees and the smell and heat of the burning fire upon the circle of sand that constitutes the stage envelopes you into the tale's Kenmore of Loch Tay via the soundscape of Scotland (and the impromptu, unplanned bagpipes playing from a distance away in the village didn't hurt either!). Ben Occhipinti's music and sound design include ancient, tribal, chanting music, mysterious interludes and the din from the village, all dropping you further into the story. Blue light projected onto the trees nods to the Pictish people and changes to red when signifying a Roman domain, a welcome subtlety by lighting designer Jeanine Byrne. 
Truly a mesmerising experience, this romantic tale of progression versus nature is timed perfectly, and the audience's collective, resounding applause and joy for two masterful actors that champion the lyrical and comedic script was quite emotional.
 
Dates: 
Saturday 19 June – Saturday 4 July
Performances:
7pm - 23-26, 29-30 June, and 2 & 4 July
2pm – 12, 16, 26 & 30 June
Running time: 2 hours (including interval)
Box office and enquiries: [email protected]
Web: www.pitlochryfestivaltheatre.com
Tickets here: https://booking.pitlochryfestivaltheatre.com/events/