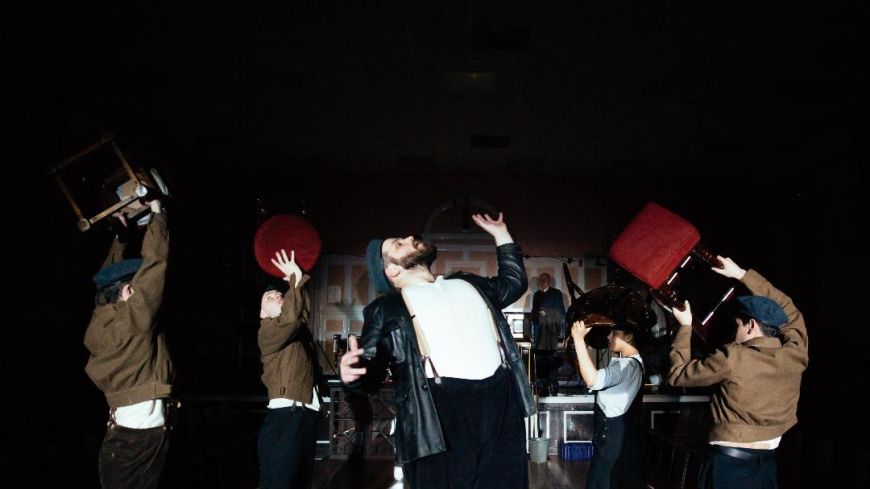 Company
Wonder Fools in association with the Brunton Theatre and the Citizens Theatre
Production
Jack Nurse and Robbie Gordon (writers), Jack Nurse (director); dramaturgy by Douglas Maxwell (dramaturg), Cat McLauchlan (set and costume design), Benny Goodman (lighting design), Ailie Crerar (producer), Vanives (composers)

Performers
Martin Donachy, Jamie Marie Leary, John Stahl, Josh Whitelaw, Cristian Ortega, Robbie Gordon
Just over 80 years since the start of the Spanish Civil War, Glasgow based theatre company Wonder Fools commemorate the 549 Scots who travelled there to join the International Brigade and show solidarity in the fight against Franco. This young company, whose political antennae are needle sharp, specialise in shedding their theatrical light on forgotten stories of British history.
Their latest work, 549: Scots of the Spanish Civil War, based on verbatim accounts from Ian MacDougall's book Voices of the Spanish Civil War, focusses on four miners from Prestonpans who went out to Spain in the '30s.
These four may have shared a passport, but they did not share the same ideals. One thinks fighting abroad is a way to get money; one is desperate to leave the pits and work in the open air and one has an eye on meeting a Spanish lass. George Watters (John Stahl), the inspiring force behind the trip and most idealistic of the four, appears as a gabardined ghost threading his way through the piece, perpetually carrying a suitcase heavy with memories.
The play's dialogue is spoken very much in the language of now with no concession made to what must have been different speech patterns of the '30s, though the fluidity with which the group of pals from a Prestonpans pub switch through the different time zones mirroring shared traits of their forebears, could make that tricky.
The play focusses more on these varied reasons for the men signing up than the range of political views that were represented on the Republican side, but that is its raison d'etre - to shine a spotlight on extraordinary, so called ordinary lives. In this it succeeds by showing the humanity and universality of these particular brave men frae the 'Pans. The history, narrated by Jamie Marie Leary throughout this piece of physical theatre, is disappointingly drowned out by music at one point.
Wonder Fools is a young company with view of the world that gives hope for the future. It is utterly fitting that this heartfelt, worthy show that harks back to days of agitprop theatre, gets to the heart of community by holding its première in the home town of these four men. Honouring unsung heroes of the International Brigade through their work should give a new generation cause to think in the uncertain and potentially dangerous times we live in now.
Prestonpans Town Hall (7 - 10 February 2018) and Citizens Theatre (13 - 17 February 2018)
For full tour and ticket information visit wonderfools.org.