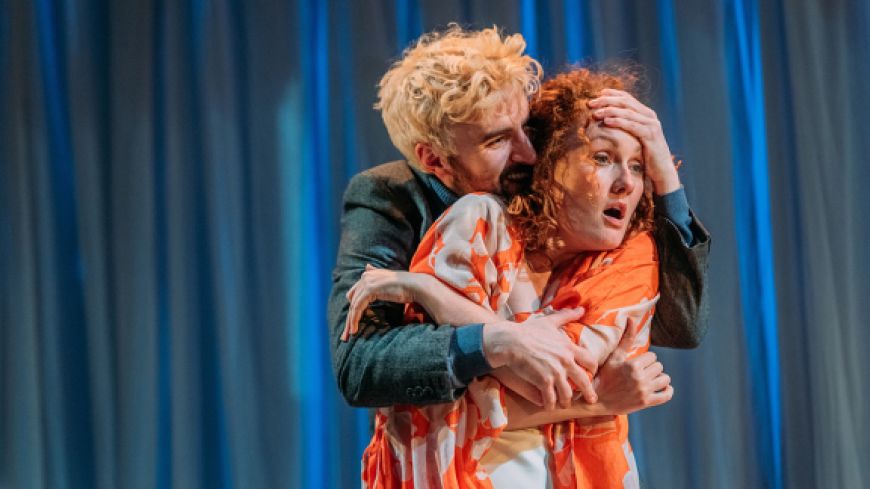 Company
Royal Lyceum Theatre Edinburgh and Citizens Theatre
Production
Zinnie Harris (writer, director), Tom Piper (designer), Oguz Kaplangi (composer), Ben Ormerod (LX designer), MJ McCarthy (sound designer), Jamie Macdonald (video designer), Kally Lloyd-Jones (movement director), Renny Krupinski (fight director), Frances Poet (dramaturg), Laura Donnelly (casting director), Max Johns (associate designer), Isla Cowan (assistant director)
Performers
Adam Best (Bosola), George Costigan (Cardinal), Eleanor Kane (Musician), Graham Mackay-Bruce (Antonio), Fletcher Mathers (Cariola/Doctor), Angus Miller (Ferdinand), Kirsty Stuart (Duchess), Adam Tompa (Delio)
Leah Walker Julia

"Why do men feel threatened by women?" Margaret Atwood once asked a male friend, his response being, "They're afraid women will laugh at them, undercut their world view." She asked a group of female students, "Why do women feel threatened by men?" "They're afraid of being killed," they answered. If we accept this to be true, then writer and director Zinnie Harris, with this bloody, brilliant adaptation of Jacobean tragedy The Duchess of Malfi, has created something to frighten us all.
With crimson hair and a swing dress to match, Kirsty Stuart's Duchess saunters from within the looming, sterile white structure that is Tom Piper's set, grasping the microphone. She huskily begins to croon sultry doo-woop akin to The Coasters' Down In Mexico, and the comparisons to Tarantino's gory revenge thriller Death Proof don't end there. Originally written in 1614 by Jacob Webster, this 2019 Duchess is almost too relevant to today, wouldn't you say? She emerges from her recent widowing girlish and lusty, happily and impulsively marrying her servant Antonio, yet Giovanna's warm zeal quickly fades into torment and rage as her brothers plot, eyes set on inheritance and control, to destroy a woman standing in her own power, sexuality and station.
Accompanied by the jarring sound of feedback, projections of names flicker afront the scene whenever a moment arrives that epitomises their character. As piety is swapped for sexual deviance, Giovanna's brother THE CARDINAL (George Costigan) bleeps upon the stage; derailing into madness and obsession, brother FERDINAND is introduced. '60s costuming and music, foreboding lullaby sung in minor key, the Duchess standing above as she marries "beneath": delicious metaphor is rampant, although at times teetering into on-the-nose: ie, suffocation by scripture.
As far as toxic masculinity and violence against women are concerned, the bloodbath and haunting echoes of women who refuse to stay dead culminate in calling upon, not the corrupt monsters at the top, but the enablers and obeyers: the men that hide their cowardice behind false loyalty. At a time when, in many parts of the world, the stuff of Atwood's dystopian novels threatens to move from fiction to current events, The Duchess of Malfi ends with an outright demand for change that grips you in your seat.
Photo credit Mihaela Bodlovic
17 May - 8 June 2019
EVENINGS, 7:30pm
Tuesday - Saturdays
MATINEES from 22 May, 2pm
Wednesdays and Saturdays
14+