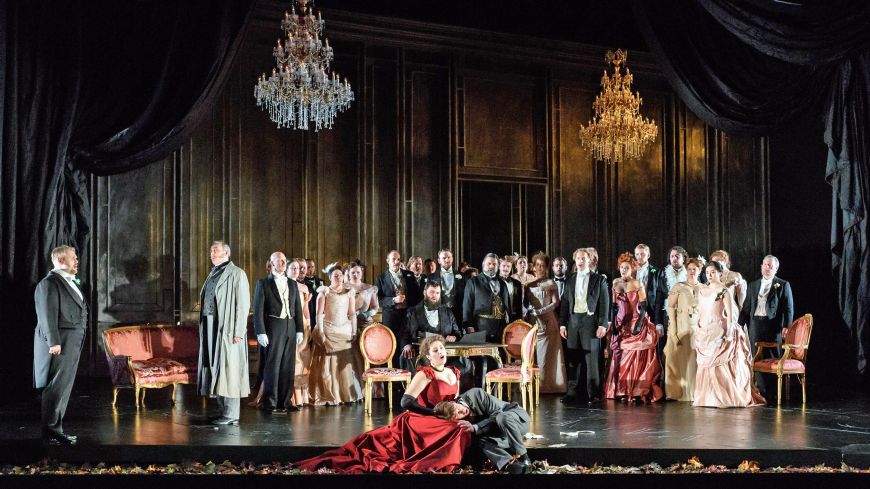 Production
Verdi, La Traviata
Performers
Gulnara Shafigullina (Violetta Valéry), Peter Gijsbertsen (Alfredo Germont), Stephen Gadd (Giogio Germont), Laura Zigmantaite (Flora Bervoix),Simon Thorpe (Baron Douphol)
Christopher Turner (Gastone), Alex Otterbirn (Marchese d'Obigny), James Platt (Doctor Grenvil), Catherine Backhouse (Annina), Paul Any (Servant), Fraser Simpson (Giuseppe),
Jonathan Sedgwick (Commisar), David Parry (conductor)

With the autumn leaves falling we quickly gathered that Violetta had not been well but was now able to throw a party. A shy young man, Alfredo, had called every day to enquire about her health whereas her protector, Barone Douphol, had shown little interest. Alfredo's father, Giorgio Germond, was not best pleased about his son's affair with Violetta which threatened his daughter's respectable marriage. Before long the gloves were off for a duel we didn't see. But the story was remarkably easy to follow; the singing hard to fault.
Three months after the duel Violetta's illness had returned. The black marble floor was engraved as if a tombstone. We had to wait to see if Alfredo was to return and, indeed, whether Violetta recovered from her illness. It was seriously played out and there were fine arias. The orchestra was there but never overwhelmed. The costumes were expansive and tasteful to the period, and the stage set insignificant to the story line but so entirely appropriate.
This is the opera to see for those not normally opera buffs. It was really good and easy to recommend.
Performance reviewed: Wednesday 15th November 2017 at 7.15pm. Further performances on Sunday 19th at 3pm, Tuesday 21st at 7.15pm, Thursday 23rd at 7.15pm and Saturday 25th at 7.15pm. Dementia Friendly Performance Friday 17th at 3pm.