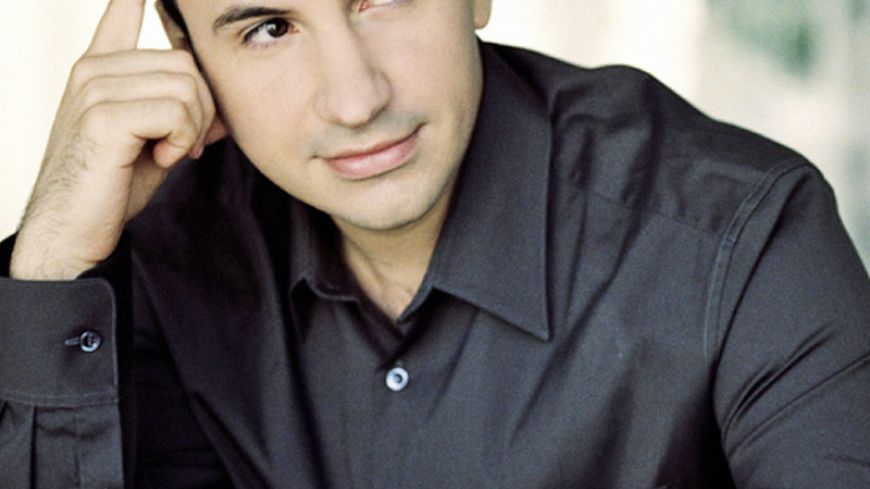 Company
Royal Scottish National Orchestra
Production
Smetana, Overture to The Bartered Bride; Rachmaninov, Rhapsody on a Theme of Paganini; Tchaikovsky, Symphony No 4 in F Minor

Performers
Cornelius Meister (conductor), Simon Trpčeski (piano)

The abiding memory of the concert will be twofold. It gave us a very small opportunity in our applause to say goodbye to Martin Gibson, the RSNO's Principal Tympanist since 1980. Highly respected by players and audiences alike, sitting high above his colleagues, he will be missed.
What was unexpected were the antics of a crazy Moldovan, for this is how solo pianist Simon Trpčeski described himself. He had played Rachmaninov's Rhapsody on a Theme of Paganini so effortlessly and in a manner so easy to watch. The audience loved it and this entitled him to an encore. What did he do, holding two sheets of paper, but tell us he was going to play the third movement of Rachmaninov's Cello Sonata. And up got Aleksei Kiseliov, Principal Cellist, to join him in the six minute long well known piece.
But that wasn't enough. For although in the pre-concert talk when questioned by Ursula Heidecker Allen, the evening's conductor Cornelius Meister, both German born, told how he had learned to play the cello from the age of four for ten years and then the French horn. This gave him a greater insight into how an orchestra works, he said. What we were not told was that for a second encore he would be sitting on the same piano stool as Simon Trpčeski for a fun duet. It was indeed great fun, and close to unique.
The concert had opened with what Ursula Heidecker Allen had described as the fiendishly difficult Smetana, his Overture to The Bartered Bride. And after the interval the conductor's very appealing take on Tchaikovsky's Symphony No 4 in F Minor. Deep and thunderous and not helped by the composer's troubled mind as a closeted homosexual.
Performance: Friday 10th February 2017 at 7.30pm.