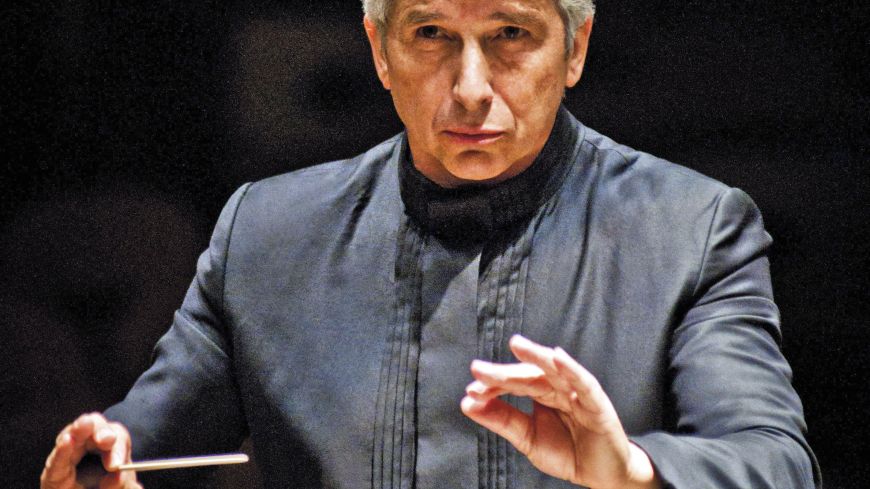 Company
Royal Scottish National Orchestra
Production
Mahler, Symphony No 3

Performers
Peter Oundjian (conductor), Susan Platts (mezzo-soprano), Ladies of the Royal Scottish National Orchestra Chorus, Gregory Batsleer (chorus director), Royal Scottish National Orchestra Junior Chorus, Christopher Bell (chorus director), Royal Scottish National Orchestra
The final concert of the 2016/17 had just one work. Mahler's Symphony No 3 is considered the longest symphony of all. Peter Oundjian was conducting a really large orchestra and almost one hundred women and girls sitting in the raised seats behind.
Bill Chandler's detailed and fascinating pre-concert talk in the Upper Circle Bar gave us a picture of Mahler whose career had taken off and was so busy that he was no longer able to compose during the winter season of conducting. He had found himself a lakeside retreat in Upper Austria for summer time composing. Bill Chandler described what sounded like a summerhouse with doors opening onto a view of lake and mountains, and every means possible to keep silence around him.
In its six movements Mahler evokes summer time, flowers and animals, men and angels and love although deciding not to use these formal headings. Peter Oundjian had told the Orchestra that it represented evolution - coming soon after the much discussed Darwin principles.
The first movement lasted thirty five minutes - a work all of its own, which explored the vastness of the world. We heard oboe and violin solos, also the solo trombone playing a familiar exam piece. From afar we heard marching getting ever closer. When it was over the conductor, as tradition dictates, took a two minute break, there was a quick retuning all round and into the second movement. Unexpectedly this was a minuet. The third movement had us hear cuckoos, nightingales and donkeys from a familiar German song. It introduced us to the posthorn equivalent and trumpet fanfares.
From a deep sleep was I aroused from Nietzsche's Also Sprach Zarathustra was sung so beautifully by alto Susan Platts to be followed by the equally impressive ladies and girls singing; the girls imitating bells, the ladies an angelic choir.
The sixth and final movement brought it all together and was, for me, extraordinarily emotional. Not surprising there many standing as they applauded a monumental work expertly carried off - with great aplomb. A very fine ending to a season of fascinating music.
Performance: Friday 2nd June 2017 at 7.30pm.